Charles and Camilla Canada tour details revealed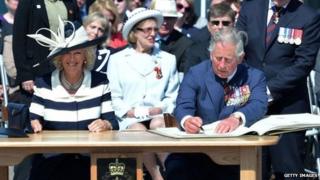 Details of the Prince of Wales and Duchess of Cornwall's forthcoming tour of Canada have been announced.
They will take part in events to mark the World War One centenary as well as the 150th anniversary of the Charlottetown conference that led to the Canadian Confederation.
The royal couple travel to the provinces of Nova Scotia, Prince Edward Island and Manitoba from May 18 to 21.
It is the third time Prince Charles and Camilla have visited Canada together.
The theme of their visit is Canadian achievement.
'Shared heritage'
They will be given an official welcome in Halifax, Nova Scotia, on Victoria Day - 19 May - before taking part in celebrations to mark Queen Victoria's birthday.
Canada's Heritage Minister Shelly Glover said: "The 2014 royal tour of their royal highnesses will not only highlight Canada's achievements and our shared heritage, but will also look to the future of Canada and how we will continue together to build a country that is the envy of the world."
The couple's tour also takes in Pictou County, in Nova Scotia, Cornwall, in Prince Edward Island, and Winnipeg, in Manitoba.
Prince Charles and Camilla last visited Canada in 2012 to mark the Queen's Diamond Jubilee. They also travelled to the country in November 2009.