Harriet Harman says male hierarchy at Parliament part of 'recipe for harassment'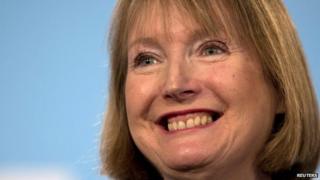 A male hierarchy at Parliament is part of "a recipe for a culture in which sexual harassment can prevail," Labour's deputy leader has said.
Harriet Harman said the problem was also caused by "the hours, and people being away from home".
A voluntary code of conduct has been issued to Conservative MPs telling them not to "bully, abuse or harass" staff.
Conservative Douglas Carswell said a power to recall MPs would raise standards at Westminster.
Ms Harman said Labour was reviewing its codes of conduct.
A Channel 4 News investigation this week reported that a third of the young men and women working in Parliament said they had suffered sexual harassment.
It said young men were more likely to be sexually harassed than women, with 40% of the men interviewed saying they had received unwanted sexual advances.
Speaking to BBC Radio 4's Today, Ms Harman said: "When it comes to sexual harassment we certainly have been looking again at our codes of conduct which we've had for some time in the party, which sets out specifically what behaviour is not acceptable for an employer towards their employee in terms of sexual harassment and what the procedures are to deal with it.
'Very long hours'
She added: "I think the truth is that an awareness of how a male hierarchy can deal with often young women in a junior position is not a unique problem for Westminster.
"I think there's been a greater understanding that there needs to be better treatment of people at work."
Ms Harman said: "Certainly when I first arrived if you had very, very long hours, people working beyond 10pm.
"If you have people away from home and you have a male hierarchy, that is a recipe for a culture in which sexual harassment can prevail.
"And therefore you have to have very strong procedures and send down the message that this is not acceptable, that you should be encouraged to complain and your complaint will be dealt with."
Maria Miller MP resigned as culture secretary this week after a row over her expenses.
Ms Harman called for the MPs' allowances system to be reformed again.
She said: "I do think we need to change the system on expenses ... because it is unfinished business in terms of assuring the public that we really have sorted the situation out."
Mr Carswell, Conservative MP for Clacton, told Today he did not recognise Channel 4's descriptions of Parliament as the "Palace of Sexminster".
He said: "Of course, if you have 650 bosses in effect, you are going to get some who aren't very good at managing people.
"Of course we need to raise standards, but I slightly wince when I hear this term 'professionalise'.
"I think it's the professionalisation of politics that's got us into this sorry state, where a lot of voters don't have confidence and trust in their elected representatives.
"The way to raise standards is to make MPs properly, outwardly accountable to the voter," he added.
"I think what we need ultimately is a right for voters to intervene and to sack MPs; that means a right of recall.
"Until we get that, no amount of tinkering, no amount of quango changing in Westminster, is going to restore confidence and trust."
He said: "If one in five voters signs a petition demanding a recall ballot there should be a recall election.
"I think we should trust the people, just as we trust juries in a court, to determine guilt."