Some tax lost on fuel duty 'recovered due to economic boost'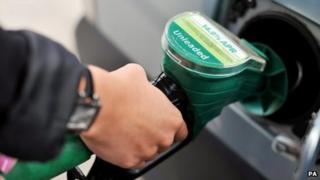 The government is to publish analysis which suggests the cost to the Treasury of freezing fuel duty could be offset by the economic boost it causes.
The Treasury analysis, to be released by Chancellor George Osborne, says halting the tax rises will boost the economy by up to £7.5bn over 20 years.
And it says this extra activity will mean the government recovers about half of the initial lost revenue.
Mr Osborne has said this approach could be a "quiet revolution" in tax debate.
He has already published a study suggesting corporation tax cuts would benefit the economy.
He wants the government to produce more research into the broader impact of tax reductions, rather than regarding them purely as revenue which is lost to the Treasury.
The government scrapped the fuel duty escalator, cut fuel tax by 1p in 2011 and froze it on four other occasions.
It said these moves meant the tax - currently 58p - was 20% lower than it would otherwise have been.
The Treasury used a method called "dynamic modelling" to calculate the wider economic effects of keeping fuel duty down.
Its conclusion was that the policy would increase gross domestic product by up to 0.5% - about £7.5bn in today's prices.
Some Conservative MPs believe this approach would make it easier to argue for tax reductions even when borrowing levels are high, BBC political correspondent Iain Watson said.
"That in turn could put clear blue water not just between the Conservatives and Labour at next year's general election, but between them and their coalition partners too," he added.
'Increased car use'
The BBC Environment Analyst Roger Harrabin points out that the recent UN climate change panel said high fuel taxes could help bring down carbon emissions.
He questions whether the Treasury's conclusions account for the economic costs of increasing car use.
He suggests that air pollution and congestion will increase so other sectors of the economy will have to cut emissions more to compensate.
David Powell, economics campaigner for Friends of the Earth, said the Treasury's modelling method fails to consider that environmental and social impacts of cutting taxes can also effect the economy.
For example a rise in air pollution could lead to more people in need of healthcare and increased congestion could lead to longer commutes for workers, he argued.
Mr Powell said: "(The Treasury) need to stop giving themselves and the public such a one-side view of policy.
"They just focus on GDP - and GDP doesn't tell us about air pollution or climate change or about things that really matter to people.
"They need to have a much more sensible approach to policy-making that accounts for social and environmental impacts too."