Max Clifford jury warned over other sex allegations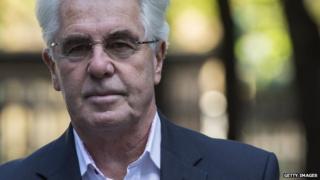 Jurors trying publicist Max Clifford must ignore sex offence allegations against other high-profile figures, a judge has told Southwark Crown Court.
Judge Anthony Leonard QC, summing up the case, said the Jimmy Savile scandal had "spawned a number of inquiries into various people".
"All are irrelevant in your considerations of this case," he said.
Mr Clifford, 71, from Hersham, Surrey, denies 11 counts of indecent assault relating to seven alleged victims.
The accusations concern alleged offences between 1966 and 1984.
MP trial
"You must ignore any reports you have read in the past or during the trial about the defendant," the judge said.
"Come to your verdicts based fully on the evidence in court."
As he began his summing up, he told jurors to disregard all other cases including a "recent high-profile trial involving an MP".
On Thursday, former deputy speaker of the House of Commons Nigel Evans was cleared of a string of sex abuse charges, including one of rape.
The rape claim was one of several allegations made by seven men against the former Conservative MP during a five-week trial at Preston Crown Court.
Savile question
The jury has heard much about the size of Mr Clifford's penis.
Jurors have been told he has a "micro-penis", while one woman told the court it was "enormous".
For the defence, Richard Horwell QC told the jury an agreed fact in the case was that a doctor, who had measured Mr Clifford's penis, declared it "within the average range for a Caucasian male of Mr Clifford's age".
On Monday, the judge said the issue had caused "hilarity" during the case "in part, I suspect, due to embarrassment from talking about the topic".
The defence team said the differing lengths recalled by the women suggested they had not seen Mr Clifford's penis.
The judge said the prosecution's view was that "the length of a penis, to coin a phrase, is in the eye of the beholder".
He also told the jury they should consider why the alleged victims had not complained to police until after the Jimmy Savile scandal.
The trial was adjourned until Tuesday.