Royals treated like celebrities in New Zealand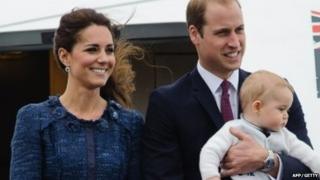 From the moment a gust of wind blew the skirt of the duchess up, to the smiling baby prince and the cheering fans, the Duke and Duchess of Cambridge have been treated like celebrities in New Zealand.
Live TV footage of their comings and goings, double-page spreads, and excitable tweeting have made the past nine days a royal love-fest for some.
"Kate and Wills are great ambassadors for the Royal Family, and I have such great memories of [Prince William's mother] Lady Di and what it meant to me, that I just want to share it with my family," said Nicola Thomas, standing in the rain in Wellington for the last chance to glimpse the couple.
With her is Roma Beattie, nine years old, grand-daughter of a former governor-general, and with a royal connection herself.
Her father's Buzzy Bee toy was once grasped by a baby Prince William during a previous royal tour - a scene remembered fondly by many Kiwis.
History was also a factor for 16-year-old Lauren Hansen and Sophie Stewart, skipping the last day of term.
With a bunch of tulips to give to Kate, Lauren said: "I just really like them. They're a part of history. Mum saw Princess Di, so I thought I needed to see Kate."
Showered with gifts
Costing an estimated NZ$1m (£520,000), the tour is seen as having a huge impact on New Zealand's reputation abroad, from images of the pair in photogenic locations, to businesses keen to link their products to royalty.
The pair were showered with gifts, many for their briefly seen son. A boat, a bike, a bear, books and a rugby ball - just some items eight-month-old Prince George may one day ride, read or throw.
Catherine's clothing was of intense interest. There were gasps of delight when she wore a New Zealand designer. But did she look like an air hostess, as some in the media have suggested? It didn't matter - Catherine could do no wrong.
She shook hands on walkabouts, she let small children hug her, she chatted with war veterans, she sailed, batted, coached, and got thrown round on a jet boat ride.
While William was doing exactly the same things next to her, the cameras were trained on only one royal personage.
At points the length of the country, thousands of New Zealanders - and Britons - turned out to welcome them.
British flags were proudly waved, and bunting draped over security barriers. And this in a country that will get the chance to vote on the future of its own flag, which includes the union jack in one corner, within the next couple of years.
Briton Maggie Gibb, 59, from Calne, Wiltshire, was prepared to wait out in the rain for a chance to see the couple.
"Me and my family are real royalists," she said. She remembers writing to Diana, Princess of Wales, to offer support when her parenting was being criticised, and receiving "a lovely letter back, saying she was really touched".
Luminaries starstruck
Prime Minister John Key's remarks about it being "inevitable" that New Zealand would one day become a republic appear not to have dampened Kiwi enthusiasm for the visitors.
Even home-grown luminaries seemed starstruck. Lord of the Rings director Peter Jackson, used to Hollywood royalty, held his smartphone up, appearing to record his time with actual royalty as he showed them round an aviation museum.
Government MP Tau Henare posted a selfie during the state reception, with the duchess seen chatting in the background.
Leader of the opposition, David Cunliffe, grumbled about Mr Key getting too much "face time", even though he did get 20 minutes one-on-one with William.
But the voice of republicanism has been heard - just. Campaign group New Zealand Republic flew a banner across Auckland Harbour as below the royals captained America's Cup yachts. "Time for a Kiwi head of state", it read.
A poll by the group before the tour started suggested 46% of New Zealanders want the Queen's successor to be their next head of state, with 44% preferring it was a New Zealander.
Asked how he thought the royal tour had gone, New Zealand Republic chairman Savage told the BBC: "From our perspective, we're very happy.
"It's enabled a good conversation to continue about New Zealand's head of state.
"I don't think the visit will have influenced the public's views - some are happy to see them, some don't really care - but if we can show that there is a need for reform, and set out the specifics of what will replace the current system, then we believe people will come to their own decision."
'Over so quickly'
Some commentators have wondered about the itinerary.
One New Zealand Herald columnist described it as "a schedule jam-packed with meaningless rah-rah" and suggested the royals stop off in flood-devastated Solomon Islands to lend moral support.
Before their arrival, the capital's daily newspaper urged readers to give the royals a proper good time "whatever our disparate views".
At the final walkabout, seven-year-old Paige Burnett could barely speak for the excitement. Dressed in her best dress, clutching a bouquet, she could not wait to see "Princess Kate".
Her mother, Keryn Davis, 32, had taken a day off work and travelled from nearby Lower Hutt city. "I really want to see her too. I'm a bit of a royalist, even on a day like today."
But as one onlooker said as the crowds dispersed: "Such a build-up, then it's over so quickly."