Prison officer attacks rose 45% in two years - Labour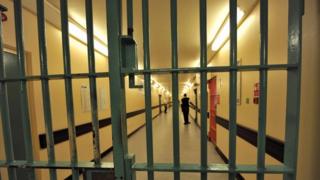 The number of serious attacks on prison officers by inmates increased by 45% in two years, figures released by Labour have revealed.
In 2012, a total of 543 assaults on prison officers were referred to the police - up from 374 in 2010.
Shadow justice secretary Sadiq Khan blamed the government for making cuts, saying prisons were in "crisis".
Prisons Minister Jeremy Wright said the National Offender Management Service was reviewing its practises.
Mr Khan, who was given the figures in response to a written Parliamentary question, said the government could not expect to rehabilitate criminals if prisons were "dens of violence".
"On their watch, this government have presided over prisons becoming more and more overcrowded and violent.
"We've seen call outs by the prison riot squad up sharply, and last year saw the highest number of deaths in custody for over a decade," he said.
'In cells'
Mr Khan said prisoners were spending "too much time idling away in their cells or on landings instead of undertaking meaningful activity like work, education or training".
"It's not an overstatement to say that prisons are in crisis and the government are either oblivious or simply don't care," he added.
Mr Wright said authorities had systems in place to deal with violent inmates "quickly and robustly".
He said serious incidents were then referred to the police for prosecution.
Also, the National Offender Management Service (NOMS) was also working alongside the police and Crown Prosecution Service ensuring prisoners who assault staff were charged and punished.
"NOMS is committed to exploring options to continue to improve how violence is tackled in prisons to keep both staff and prisoners safe.
"It is currently reviewing the policy and practice of the management of violence," he added.