Kay Goldsworthy, Australia's first woman bishop, at Westminster Abbey for Easter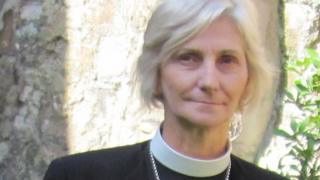 "This is the first time I've ever celebrated Easter in spring," says Australia's first Anglican woman bishop as the April sun lights up the lodgings in Westminster Abbey's cloisters, where she is spending Holy Week before Easter as a guest.
The Right Reverend Kay Goldsworthy is an assistant bishop in the diocese of Perth, where Easter comes in autumn and where, she says, farmers are now anxiously scanning the sky for signs of rain.
She preached at the Abbey on Palm Sunday and will lead meditation there on Good Friday. On Easter Day she will preach in the neighbouring St Margaret's, Westminster, the parish church of Parliament.
She has been welcomed by the Dean and Chapter of the Abbey - and feted by supporters of the creation of women bishops in the Church of England.
Offered to serve
"It was wonderful and inspiring to everyone there to see a woman truly being able to fulfil the ministry God has called her to," the pressure group Watch said after her Palm Sunday sermon.
Bishop Goldsworthy says she is encouraged by the way moves towards allowing women bishops in the CofE are progressing - which could result in the first of them being appointed this year, some believe.
She notes the big majorities which the proposed law had been getting in the synods of the Church's regional dioceses. But, she adds, she has been advised not to expect everything to "fall into place".
Her own progression from deaconess to deacon, to priest, then a bishop in 2008 was not without opposition.
She first offered to serve the Church when she was 16, was told to wait - then at 23 was accepted to study theology at Trinity College in Melbourne.
During her second year there, she says, she felt she was called to serve as a priest. There were then (1982) no Anglican women priests in Australia. "At the time it was terrifying to think that I might be standing against the prevailing custom... but I had a very strong sense of being called," she says.
Later she moved to Perth where she was chaplain of a girls' school, and there she was ordained as one of Australian Anglicans' first women priests in 1992. She married while at the school, and has twin sons aged 23.
In the six years since she became its first woman bishop the Australian Church has appointed four more - "so it's really a statement of how ready Australia was for women to be bishops."
But to this day her ministry as bishop and priest is not recognised throughout the Australian Church. Such is the autonomy of Australian dioceses that those which oppose the ministry of women simply do not allow it.
Can this state of affairs continue? Bishop Goldsworthy believes it will. Dioceses which do not recognise the ordination of women include the country's biggest city, Sydney.
'So much strength'
One diocese has recently changed its policy and started ordaining women. But there are others where she says "I don't see that happening any time very soon." In Sydney "there may be a sudden change - but I wouldn't anticipate it."
As assistant bishop, Kay Goldsworthy supervises some 55 parishes, and is involved with bodies supervising the Church's mission and social work, and the appointment of clergy into their first parish appointments.
She has also sat on the Anglican Consultative Council, one of the worldwide institutions of the Anglican Communion, which she says was a wonderful experience.
"I think there's so much strength in the Anglican Communion - and the way to see that is to look at the work of its networks and informal structures around the world." She cites the International Anglican Family and Women's Networks, active in showing how "Anglican communities on the ground are working to spread the good news of Jesus, to speak against injustice, to overcome obstacles that stop people flourishing."
The average Anglican, she maintains, is "an African women aged about 32 who lives in extreme poverty".
But some think the Anglican Communion is close to splitting asunder, divided between traditionalist national churches and those whom they accuse of preaching "a different Gospel" especially over gay rights.
Asked if the Communion will survive, Bishop Goldsworthy says "I think you need to ask someone who's more important than me about that!"
But she adds: "I think there's a great will to work together - as an Anglican committed to the love of Christ and the hope that we have in Christ through his death and resurrection that we all might see each other as sisters and brothers... I always am hopeful that we can meet each other across our differences."