Easter travel: 'Busiest day of year so far' on roads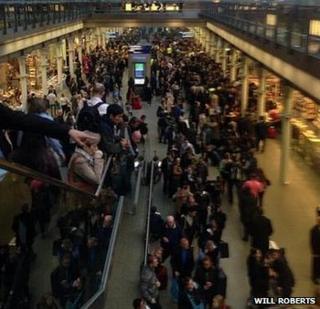 Millions of drivers have taken to Britain's roads in what experts believe is the busiest day of the year so far.
Greg Hallsworth, of traffic information firm Inrix, said roads were "certainly" the busiest they had been in 2014 - and Monday was likely to be even busier.
The AA and traffic information firm Trafficmaster estimated 16 million cars would be used over the holiday weekend.
Passengers have also seen delays and cancellations to Eurostar and Channel Tunnel services after a breakdown.
Eurostar cancelled 10 trains between London and the continent on Thursday and urged passengers not to attempt to travel until Friday, following a broken down Euortunnel passenger shuttle in the Channel Tunnel.
Services had earlier been diverted and delayed by a fatality near Lille, in northern France.
Eurostar, which expected to carry more than 130,000 passengers to the continent over the Easter weekend, said it would run a normal service on Friday but warned trains will be "very busy".
'Big return'
Mr Hallsworth said traffic usually peaks in the morning and evening rush hours, but it "just builds and builds" on Maundy Thursday as people set off for weekend breaks.
He said Thursday's peak looked likely to have passed at just after 16:00 GMT, but roads in many areas were still very busy.
The worst "hotspots" for traffic delays had been on parts of the M5, M6, M25 and several roads in Kent, the latter due to problems on the Channel Tunnel, Mr Hallsworth added.
And he said roads could be even busier on Monday.
"A lot of schools go back on Tuesday so Monday may be the big return," he said.
"The weather on Monday isn't looking too good and bad weather always makes the traffic worse."
The weather over Easter is forecast to start dry with sunny spells but turn increasingly wet on Sunday.
Road hotspots
The AA said this Easter was expected to be the one of the busiest on the roads in recent years, with mild weather replacing the snow and ice of last year.
Routes in the south-west of England were likely to be the busiest, it added.
The AA said it would have 20% more patrols on duty than normal to deal with extra breakdowns.
A fire involving a car towing a caravan on the M5 south of Taunton caused major delays earlier.
Network Rail said engineering work would take place at more than 3,000 locations over the Easter weekend, with almost 8km of track renewals taking place.
It will affect stations including Charing Cross, London Bridge, Paddington and King's Cross in London, Southampton Central and Sheffield.
Passengers are advised to check National Rail Enquiries for any timetable changes before they travel.
Rail industry body the Railway Delivery Group said 20% fewer bus replacement services would be needed compared with last Easter.
On London Underground, parts of the Bakerloo, District, Jubilee and Piccadilly lines, as well as London Overground, will be shut.
'Sun and showers'
Some 370,000 passengers are expected to fly from Heathrow Airport, 200,000 from Gatwick and 120,000 from Stansted.
In the north of England 110,000 will leave from Manchester Airport, and 100,000 will fly from the Scottish airports.
BBC forecaster Sarah Keith-Lucas said the weekend would start dry and sunny but there would be some rain in the south on Sunday and Monday.
She said it would be "dry, clear and chilly everywhere" on Friday morning, with a slight frost, before a dry and sunny day with highs of 10-15C (50-60F). Patchy cloud is expected in east and south-east England.
Similar conditions are expected on Saturday, though there could be some light rain in north-west Scotland, our forecaster said.
She said Northern Ireland and Scotland should get more sunshine on Sunday, but England and Wales could see rain - some of it heavy in central and south-eastern England.
"Sunny spells and scattered showers" are expected on Monday, with top temperatures of 12-16C.
A survey by Visit England has suggested that 3.4 million Britons plan to go away within the UK over Easter, with 1.6 million heading abroad.