Dead behind bars: 'My son didn't think he was lovable'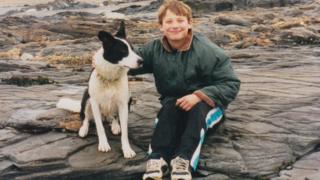 In the past 10 years, 80 people aged 21 and under have killed themselves in prison - the government has set up a review to find out why so many young people die in custody. One mother explains what it is like to have a child die behind bars.
"Three days before his seventh birthday, we picked Adam up and all his worldly goods - which wasn't very much - and brought him home," says Annette Rushton. "He seemed happy quickly to be here."
Adam's new home was in Welshpool in Powys, with his adopted parents, Annette and husband David. It was a completely different environment from his early childhood experiences.
He had been taken into care, along with his baby brothers, after their biological mother struggled to cope and there had been concerns for the children's welfare.
Although only a child himself, Adam had been looking after his twin brothers.
"They would be hungry and there might be Weetabix in the house, but there'd be no milk. He would go outside and wander up and down the streets and look for somebody's milk on the doorstep," says Mrs Rushton.
"So we soon came to realise that from a very early age, the only way Adam could survive was by taking things."
Mrs Rushton remembers Adam as an active and mischievous boy.
"He would have periods of bad behaviour, most often when he'd had a particularly nice day," she says.
"You'd go to the seaside, or you'd go and do something with [him], and then you'd come home and his behaviour would deteriorate.
"The only way we could ever really understand it, or explain it, was that this child didn't think he deserved to have anything nice, or to do anything nice. As if he believed, 'I don't deserve this, I'm bad.'
"He couldn't believe that he was lovable."
At 12, Adam was diagnosed with attention deficit hyperactivity disorder (ADHD) and began attending a specialist boarding school, but was suspended after aggressive behaviour towards another pupil and then asked not to return.
"He went back to feeling, 'I'm just a load of rubbish, aren't I? What's the point? I might as well just do what I want to do'," says Mrs Rushton.
By the age of 16, Adam was living away from home in a hostel in Newtown, but began getting into trouble for minor crimes, such as shoplifting, and served 10 short prison sentences.
In 2009, in the run-up to his last spell in prison, his behaviour became unrecognisable to those who knew him.
"His life became extremely chaotic, worse than I'd ever seen in the past," says Eli Smith, who worked at the hostel where Adam lived.
Adam's friend, Luke Day, noticed a change in his physical appearance too.
"His eyes were sunken in over the few days because he wasn't getting the sleep, and I don't imagine he was eating either," says Mr Day.
After being caught stealing a mobile phone, Adam was remanded in custody again.
"His behaviour in the holding cell at court was very worrying for the solicitor. He smeared faeces all over the cell wall," says Mrs Rushton.
She says the psychiatric nurse who assessed her son made a recommendation in his report that if he was sent back to prison he could be in danger of taking his own life.
"That psychiatric report didn't go with him, and when it was faxed to the prison the following day, our information is that it was filed, that nobody even read it, nobody joined anything up," says Mrs Rushton.
Adam was sent to Brinsford, a young offenders institution near Wolverhampton, and on 22 October 2009 took his own life. He was 20 years old.
During the inquest into Adam's death, it was discovered that another young man had killed himself in the same cell, and in the same way, weeks before.
Brinsford Young Offenders Institution accepted all of the 11 recommendations made by the Prisons and Probation Ombudsman's report into Adam's death, including a recommendation to improve reception procedures.
A Ministry of Justice spokesperson said: "Adam Rushton's death was a tragedy and our sympathies are with his family.
"We have addressed all the recommendations made by the Prisons and Probation Ombudsman following the investigation into the death and the points raised by the coroner following the inquest.
"Prison staff work with some very troubled and challenging individuals and care for them professionally and effectively every day. When a death occurs it affects everyone in the prison and we are committed to do everything possible to prevent such tragedies occurring."
According to statistics published by the Ministry of Justice, in 2013 there were 74 deaths in custody that were self-inflicted.
In February, the Ministry of Justice announced it would be establishing an independent review into self-inflicted deaths in custody of 18-24 year olds.
Justice Secretary Chris Grayling said: "Although there are already comprehensive investigations into individual deaths we recognise there is benefit at this time in collating lessons that may be system-wide."
Casework analysis by the charity Inquest suggests a large majority of young people who die in prison are diagnosed with ADHD, special educational needs and other disorders.
Mrs Rushton would like to see extra support for these young adults.
"When I used to visit prison, I would look around the room and I would see 30 or 40 Adams, all with the same look in their eyes, all with the same expressions on their faces.
"Yes, they deserve to be punished, but there should be something a bit more for them."
Dead Behind Bars was broadcast on Thursday 24 April at 21:00 on BBC Three and will be repeated at 00:30 on Friday 25 April. Or catch up on BBC iPlayer