Huge surge in rail journeys since 1990s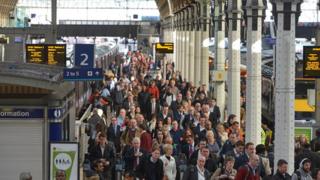 The number of rail journeys taken in a single year has more than doubled since the 1990s, new figures show.
In total, 1.27 billion trips were made across England, Scotland and Wales in the 12 months leading up to March 2013, the Office of Rail Regulation said.
That figure increased 3.3% between 2012 and 2013 and compares to 589.5 million journeys in 1995/96.
Rail Delivery Group said the figures showed the industry generated "phenomenal growth".
London growth
The number of journeys in and around London playing a significant part in the most recent rise.
There was a 6.3% increase in the number of train journeys within the capital and a 2.8% increase in the number of journeys to and from the city.
At the same time, Scotland saw a 2.9% increase in the number of journeys involving stations in the country, whilst Wales saw a 1.1% jump.
A spokesman for rail industry body the Rail Delivery Group said: "An industry focused on attracting more passengers and freight, combined with a commitment by successive governments to invest over the long term, is generating phenomenal growth.
'Not without problems'
Campaign for Better Transport's Martin Abrams said the growth was "remarkable".
But he added: "The success of the railways is not without problems.
"The London economy relies on trains, but there is increasing anger among commuters at the high cost of getting to work.
"There is also a big disparity in the quality of services in London and the south east compared with parts of northern England."
Mick Cash, acting general secretary of the RMT transport union said: "While passenger numbers on Britain's railways continue to surge, the capacity required to meet that demand has failed to keep up, leaving many services bursting at the seams with in some cases passengers left stranded because there simply isn't enough room on board."