BBC filmmaker Jay Merriman-Mukoro feared dead in Barbados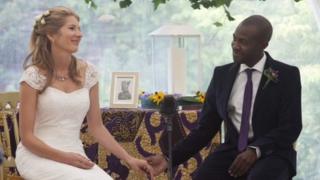 A BBC documentary maker who was reported missing after he went swimming in the sea in Barbados is feared dead.
Jay Merriman-Mukoro was on holiday with his wife Olivia when he waded into the water at Accra Beach last Sunday.
A body has since been recovered and DNA testing is taking place to determine whether it is that of the 43-year-old.
His colleagues have paid tribute to the journalist, who most recently worked in Scotland, describing him as a "popular and respected friend and colleague".
Mr Merriman-Mukoro and his wife married last September and had been in Barbados to attend a wedding.
While there, he also conducted an interview for a Commonwealth Games documentary for the BBC, which was to be his directorial debut.
'Happy couple'
His wife, a psychologist, who has since returned home to London, said leaving Barbados was "very, very painful".
"Pre-Barbados was a time when Jay and I were a very well-matched and happy couple, making plans for our future," Dr Merriman-Mukoro told the BBC.
"Now, post-Barbados is a time when I will have to face a new life without him."
Her husband, who was most recently working for BBC Scotland on a freelance basis, had a "great sense of energy and enthusiasm" for life, she said.
She said there had been a yellow flag in place to warn of choppy conditions when he walked into the water, but it seemed no rougher than usual.
She was reading her book and looked up to see a man she believed to be her husband but then realised it was not him and began to panic.
"I got this feeling of dread in my stomach. I knew he wouldn't have just gone off somewhere, he was so attentive and I had all his belongings. I knew something wasn't right," she said.
Lifeguards began a search before involving the coastguard. Days of searching returned nothing, until a body was recovered further along the coast.
Authorities in Barbados have said it could take several days before DNA tests are complete.
"In one way we don't want to give up this glimmer of hope that he could still be alive," Dr Merriman-Mukoro said.
"But there's something important about having closure so we can repatriate him and have a memorial service at home, to be able to mourn Jay in a more physical way."
In a statement to the BBC, Mr Merriman-Mukoro's family said they were "devastated".
"To think that Jay may no longer be in our lives is incomprehensible," they said.
"He's very humble, very gentle, very honourable, hard-working. He's the life and soul of the party.
"We as a family will have to try to make sense of what has happened and the enormity of what is before us."
'Popular and respected'
Mr Merriman-Mukoro worked as assistant producer on a string of landmark documentary series, including the BBC's Bafta-winning History of Modern Britain with presenter Andrew Marr.
BBC Scotland Editor Marcus Ryder paid tribute, saying: "Jay had been in Glasgow for just a few weeks and had already become a very popular and respected friend and colleague."
He added: "The thing that really upsets me is the fact he'd been working on all this landmark stuff with assistant producer credits, but for the last two years all he's wanted was a directing break. And he finally got it."