UK military intervention: MPs call for more clarity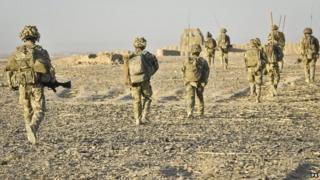 The government should create a military intervention template that sets out when troops should be deployed to international conflicts, MPs have said.
A cross-party group said it should be clear that troops would be tasked only after a "considered national strategy".
The Defence Select Committee also urged the government to clarify Parliament's role in the decision-making process.
A government spokesman has insisted politicians should be able to debate before troops are sent to a conflict.
He said this should always be so, except in cases where urgent action is needed.
In a report, the defence committee highlighted a "current lack of appetite" for military operations in the wake of the conflicts in Afghanistan and Iraq.
Hostile actions
It said while sending UK troops to a warzone would have consequences, deciding against military intervention could have an equally far-reaching impact.
"Non-intervention decisions have implications for the UK's place in the world and its influence which are as profound as a decision to undertake an intervention operation," the report said.
"Decisions not to intervene could have wide global implications for efforts to deter hostile actions by other states or non-state actors."
It called for the government in its next National Security Strategy (NSS) and Strategic Defence and Security Review (SDSR), due in 2015, to explain how it balances and decides between the two choices.
It suggested that the UK's decision against intervention in Georgia or Syria may have empowered Russia in its current occupation of parts of Ukraine.
Non-intervention, it said, could have "global implications for efforts to deter hostile actions by other states or non-state actors".
The last NSS in 2010 indicated that the main threat to UK national security was from international terrorism and "non-state actors".
The committee's report agreed those threats remained. But it called for the next NSS to give "due weight to the likelihood of a return to an increased threat of state versus state conflict" and for the SDSR to ensure force levels are able to deal with that possibility.
'Contentious and contested'
Meanwhile, it also urged ministers to clarify the role of Parliament in making decisions about military intervention, following the Commons vote on Syria.
The report said it was not appropriate for the government to wait until the next possible military deployment to resolve this issue.
The government sought MPs' approval in August 2013 as it prepared for military intervention in Syria, but lost the vote by 285 to 272.
The decision to use the UK armed forces overseas was among the "most significant" ministers could make, said the government spokesman.
"That's why the government has stated that it will observe the existing convention that says the House of Commons should have the opportunity to debate before UK troops are committed to conflict, except in cases where the urgency of the action required makes this impossible," he said.
"Military intervention as a course of action can of course be contentious and contested but the government is clear that it remains an important last resort when all other means of dealing with threats have been exhausted."