Madeleine McCann's mother backs child rescue alert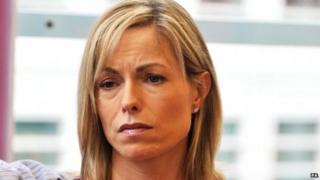 The mother of missing Madeleine McCann has urged people to sign up to a system of text or email alerts sent if a child is abducted or goes missing.
A Child Rescue Alert can be triggered when a child's life is in danger.
Since 2005, alerts have been issued to the press and media. From 25 May, the system will be extended to include members of the public who sign up.
Kate McCann - whose daughter went missing seven years ago - said the revamped system could save lives.
Madeleine was three when she disappeared in 2007 from a holiday apartment in Praia da Luz, Algarve.
Mrs McCann said: "When a child is abducted, families are devastated and entire communities are torn apart. The agony of not knowing where your child is is almost impossible to imagine. The helplessness is at times overwhelming.
"But there is now something we can all do to help. Please sign up to receive alerts - you could save a child's life."
A Child Rescue Alert is a mechanism to centralise possible clues and leads from the public.
An alert can be triggered by any British police force - but only when a case matches three criteria:
The child must be under 18
There is a "reasonable belief" that the child is in imminent danger of serious harm
There is sufficient information for the public to be able to help the police investigation
The revamped system will allow alerts to be issued via text, email, social media and digital billboards.
Alerts to the media have been in place across England and Wales since 2005, but the extended will come into force later this month to coincide with International Missing Children's Day.
Groupcall, the company behind the updated system, said thousands of people had already registered.
Ahead of the seventh anniversary of her daughter's disappearance, Mrs McCann also spoke of how she would prefer to know the truth about what happened Madeleine, even if it is "the worst case scenario".
"If it was down to not knowing or finding out news that isn't what you want to hear? At the end of the day I can't change that. What would you rather?" she told the Sun.
"I'm not underestimating the blow of hearing bad news that your child had been killed, because obviously we're not going to go, 'OK at least we know.' But I've spent hours thinking about that and, each time, I still come up thinking we need to know. Regardless we need to know."
She added: "But there is always the worst case scenario. That's always been a possibility and anyone who thinks that we're blinkered doesn't know us."
Every minute 'crucial'
A version of the Child Rescue Alert was used in the hunt for murdered five-year-old April Jones in October 2012.
Charlie Hedges, from the National Crime Agency which helped co-ordinate the appeals, said: "The success of Child Rescue Alert is down to each and every one of us. I've already been encouraged by the wide range of organisations who have joined us in partnership to offer their support and help launch this invaluable tool.
"Now it's down to the public to sign up for the alerts so we can send the message as widely as possible when a child goes missing."
Jo Youle, chief executive of the charity Missing People, said: "Every minute after their disappearance is crucial to bringing a child home safely. Child Rescue Alert will now mean the public and companies can help - and hopefully save these children's lives."