All of Jimmy Savile's estate to be used to settle abuse claims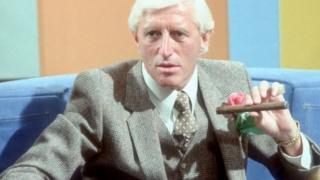 Money from Jimmy Savile's estate will be used to fund compensation payments to the victims of his abuse until every penny of his money is used, it has been confirmed.
The estate bequeathed by the former Jim'll Fix It presenter has been valued at £3.3m, after an initial estimate of around £4m.
In February, victims were advised that under the compensation scheme that was approved following a High Court ruling, they could make claims against the Savile estate, the BBC or the NHS, with payments capped at £60,000.
Health Minister Norman Lamb has stated the government position is that no taxpayer money will be used until after every penny of the Savile estate is gone.
He said that no NHS resources had been allocated for claims from alleged victims.
Savile allegedly abused patients - many of them children - at hospitals.
The health minister said in response to a written parliamentary question in the Commons: "If, in the future, the estate funds are exhausted, it is only then that claims may be funded from the public purse."
But Liz Dux, who is heading a team of lawyers representing 150 alleged Savile victims, said it was important to clarify which cases had priority access to the money from the late entertainer's estate.
She explained that victims who made complaints about abuse on NHS premises had been advised to make their claims against the NHS and those who alleged attacks in BBC buildings would target their compensation claims against the corporation.
She said both organisations had agreed that, while money should be used from the Savile estate, it would initially be made available to those victims of assaults that took place on neither BBC nor NHS premises.
Ms Dux said: "It has been agreed that the NHS will settle the NHS claims and the BBC will resolve the BBC claims."
She added: "Only then, they will seek to recover their outlays from whatever money is left from the estate, ranking behind the other victims."
Savile, who died in October 2011, aged 84, is alleged to have abused people over a 60-year period, but died before the claims came to light.
The NHS is investigating 33 hospitals' links with Savile after police passed information to the Department of Health.
Reports are expected to be completed by June, the government has said.
An investigation has also been commissioned by the Sue Ryder charity in relation to Wheatfields Hospice in Leeds.