Firefighters strike over pensions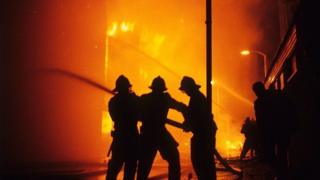 Firefighters in England and Wales are holding a five-hour strike on Friday in a long-running row over pensions.
The strike is due to last between noon and 17:00 BST and be followed by further action on Saturday afternoon and night and during the day on Sunday.
The Fire Brigades Union (FBU) opposes plans to increase the retirement age and make changes to pensions.
The government said firefighters had "one of the most generous pension schemes in all the public sector".
Further walkouts are planned over the weekend, from 14:00 on Saturday to 02:00 in the early hours of Sunday and again later in the day between 10:00 and 15:00.
In Scotland there will be a ban on voluntary overtime from noon on Friday until 9 May.
The FBU is protesting that firefighters face having to pay higher pension contributions, work into their late 50s before retiring and could be sacked because their fitness declines as they get older.
But a spokesman for the Department for Communities and Local Government said: "It was the union executive's decision to call this strike that effectively ended its discussions with the government."
He added: "The government is clear that further change can be made through constructive engagement, but not under the shadow of industrial action, which only serves to damage firefighters' standing with the public."