Gulf War soldier takes on MoD over vaccines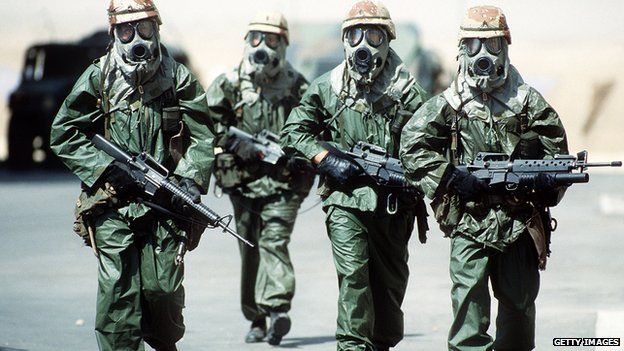 A soldier has won legal aid in his fight to find out what the Ministry of Defence knew of the health risks of the vaccinations given to troops ahead of the first Gulf War.
He is one of a number of service personnel who have subsequently become ill and believe the toxicity of the inoculations may have been a factor.
The Ministry of Defence said all the key facts about the vaccination programme had already been published.
They denied there was any cover-up.
The first Gulf War started after Iraqi troops invaded neighbouring Kuwait in August 1990.
The inoculations were used to counter the effects of anthrax and the plague which military planners believed Saddam Hussein's forces could use against coalition forces.
However, shortly after the end of hostilities, reports began to emerge in the US and UK of troops becoming ill.
US researchers from the Research Advisory Committee on Gulf War Veterans' Illnesses, who have looked at the experience of US and British veterans, believe as many as one in three are now reporting ill health.
Despite numerous research studies, scientists have failed to pinpoint the cause of what has become known as either Gulf War syndrome or Gulf War illness.
Some doctors say exposure to toxic substances in the Gulf may have altered some troops' body chemistry, but a number of troops believe the inoculations they received may be to blame.
The legal action against the MoD is being brought by Alex Izett, a former member of the Royal Engineers.
Although Mr Izett was inoculated, he was never deployed, so he was never exposed to the wider chemical hazards that existed in the war zone.
In a witness statement, he recalled the vaccination procedure, saying: "We all lined up and were given a number of vaccinations, passing from one table to the next like being on a production line. I thought at the time that I was up to date with my vaccinations and I could not think what I had missed.
"I remember asking one of the medics who was giving the inoculations what they were and what was in them. I was told I didn't need to know," he said.
The MoD has already acknowledged that the combinations used were not licensed.
Mr Izett became ill shortly after getting the vaccinations.
"Parts of my body began to go numb and would become weak," he said.
But it was not until a year later that his health deteriorated rapidly.
"I started getting severe pains in my back and hips… and I had lost all strength through my body and was in constant pain".
Mr Izett was subsequently diagnosed with auto-immune induced osteoporosis, aged only 25.
"To say that I was shocked is an understatement. I was devastated... I thought osteoporosis was for old people, not young men."
"I remember ringing my parents during the weekend and just breaking down in floods of tears. I felt like my future had been taken from me," he said.
The legal aid certificate granted to Mr Izett's legal team allows him to prepare a case to argue for disclosure of documents that the MoD had detailing the health risks posed by the inoculations.
A number of previously confidential documents have over the years been released into the public domain. One from the National Institute for Biological Standards and Control - written in December 1990 - warned of possible dangers of combining some of the vaccines.
"When each of the two vaccines were tested alone they were not associated with an unusual degree of toxicity. However, when combined there was evidence of severe loss of condition (or a deterioration of general visible health) and weight loss in animals," said the letter.
"I would emphasise that these findings are preliminary but they do suggest that if used in man as a combined preparation, an enhanced degree of reactagencity (the degree to which adverse reactions are present) could occur.
Phil Shiner, the lawyer acting for Mr Izett, said: "There are major question marks over the vaccines. These documents that I've seen raise a lot of pressing questions that require answers.
"There clearly are a lot of other documents which require to be disclosed by the MoD."
A spokesman for the MoD said: "We are indebted to all those who served our country in the Gulf Wars and in recognition of this we have full and comprehensive compensation schemes in place for anyone who was injured or fell ill as a result of their service.
"All documents relating to these allegations have been in the public domain for many years."
He said the MoD has repeatedly asked for evidence from people who say the Ministry is covering up information. To date, there had been nothing to support these "unfounded allegations".