UK ticket-holder wins £73m EuroMillions lottery jackpot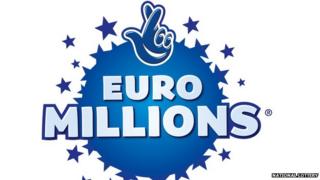 A UK ticket-holder has won a £73m jackpot in the EuroMillions draw - the eighth biggest UK win in National Lottery history.
The winning numbers in Friday's EuroMillions draw were 30, 42, 04, 31 and 38, while the Lucky Star numbers were 11 and 02.
A National Lottery spokesman said "the champagne was on ice".
The largest UK win was claimed by Colin and Christine Weir, of Largs in Scotland, who won £161m in July 2011.
The second largest UK win- £148m - went to Adrian and Gillian Bayford, from Haverhill, Suffolk, in August 2012, while the third biggest jackpot of £113m was claimed by an anonymous winner in October 2010.
A National Lottery spokesman said: "This bank holiday has turned out to be truly memorable for one UK winner, not only will they enjoy the extra day off but they'll now also be banking a multi-million pound cheque.
"This single UK ticket-holder will enter the exclusive top 10 on the National Lottery rich list - at number eight - and we've got the champagne on ice ready for the lucky winner to claim their prize."