Labour should reform the railways, prospective MPs say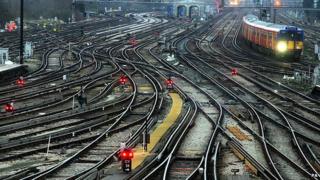 Labour should renationalise the rail industry if it wins the next election, a group of 31 prospective MPs has said.
In a letter to the Observer, they said services should be returned to public ownership when current franchises end.
Leader Ed Miliband said Labour was looking at all options but would not "go back to old-style British Rail".
The Conservatives said recent estimates suggested renationalising the railways would add "at least £10bn" to the UK's budget deficit.
The Labour candidates, many of whom are fighting marginal seats in commuter constituencies, said profits could fund "a bold offer on rail fares".
'Successful model'
In their letter, the Labour candidates said rail fares were contributing to a "cost-of-living crisis" and claimed season tickets were now the largest monthly expense for many commuters.
"Just as Labour has pledged to freeze energy bills and reset the market to secure a better deal for customers, so it will be necessary to reform the rail industry to secure a better deal for passengers," they said in the letter.
The candidates, who will fight for seats at the next general election, said train companies were walking away with "hundreds of millions of pounds every year, despite running monopoly services and benefiting from £4bn of public investment in the rail network every year".
They claimed the "successful model" of the East Coast mainline over the last few years had shown there was a better way to run the country's railways.
The service, which covers the route between London and Edinburgh, has been publicly-run since 2009 after the government took control of the franchise when National Express, the previous operator, ran into financial difficulties.
However, the line is due to return to private hands in early 2015.
'Bold offer'
The TSSA rail union has claimed the line has been the cheapest franchise to run for the past five years and has produced the greatest return to taxpayers.
"A commitment to extend this successful model to the rest of the rail network, as existing contracts come to an end, would mean that hundreds of millions currently lost in private profit would be available to fully fund a bold offer on rail fares," the group of parliamentary hopefuls wrote.
The letter comes as the Labour Party undertakes a wide-ranging policy review ahead of next year's general election.
Ed Miliband told BBC One's The Andrew Marr Show: "We've got to be pragmatic and we've got to recognise that the system at the moment has flaws in it.
"Passengers are paying high fares in this country and we're paying big subsidy from the taxpayer.
Now we've got examples, for example, with East Coast, which is in public hands, and the government is dogmatically privatising it."
He said he wanted to see "value for money for the taxpayer".
"I'm never going to write a blank cheque and I'm not going back to the past but we are looking at the different options.
"There's a balance to be struck here because there's some benefits that you can have sometimes from competition and we're not going back to the old monolithic model that there was - British Rail."
Asked if a substantial part of the railway system would be handed back to public control under an Ed Miliband government, he replied: "You're very tempting Andrew but you'll have to wait to our manifesto for that."
'Too weak'
Conservative party vice-chairman Bob Neill MP said Mr Miliband's comments showed Labour's economic credibility "is going even further off the rails."
"Once again Ed Miliband has shown he is too weak to stand up for the people of Britain and face down his union paymasters," he said.
Green Party MP Caroline Lucas has submitted a Private Member's Bill which would require the government to "assume control of passenger rail franchises when they come up for renewal".
Rupert Read, transport spokesman for the Greens, said the public "simply can't trust Labour" on the issue.
"Labour had more than a decade in government to do something about this and they didn't lift a finger to help," he said.
Industry body the Rail Delivery Group said it was wrong to blame private train companies for above-inflation increases, and added: "Renationalisation would be bad for passengers, taxpayers and the country as a whole."
"The annual increase has nothing to do with who operates services and everything to do with government policy," chairman Martin Griffiths said.
Successive governments had "instructed operators to increase the average price of commuter fares in real terms every year from 2004 to last year", he went on.
"This has meant passengers, rather than taxpayers, have been paying a greater share of the cost of running the railway."
Government subsidy
The not-for-profit company Network Rail, which is part-funded by a government grant, is responsible for track, signalling and stations.
Other funding comes from track access charges - either rail fares or revenue support payments from the government.
Total government subsidy for the railways increased from £2.17bn in 1992-93 to £2.59bn in 2002-03, according to figures from the Office of Rail Regulation.
It peaked in 2006/07 at £6.3bn, before falling back to £3.2bn in 2012-2013.
Britain's railways were nationalised by Labour in 1948 but were returned to private hands in 1993 by John Major's Conservative government.