Children from Welsh choir taken ill on Heathrow flight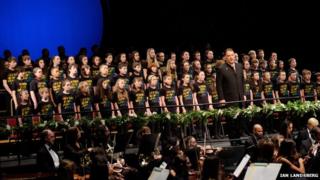 Twelve children from a Welsh choir were taken to hospital after they became unwell on a flight to Heathrow.
The children from Only Kids Aloud (OKA) sang at a concert in Cape Town, South Africa, with opera star Bryn Terfel.
On their flight home on Sunday some of the children were suddenly struck with "diarrhoea and vomiting".
Four ambulances from London Ambulance Service and a Hazardous Area Response Team met the Emirates plane carrying the 64 children when they landed.
London Ambulance Service were called at 07:41 BST and paramedics checked over the children aged between 10 and 14 years old before taking 12 of them to Hillingdon Hospital, London, were they were said to have recovered quickly.
The hospital said they had a "mild form of diarrhoea and vomiting" it was likely they picked up a bug before they left Cape Town.
'Queasy'
Choir member Tanwen Cray, 13, and her sister Efa, 11, were both struck by illness.
She said: "It happened very quickly. Suddenly there were about 30 people around me being sick.
"The air stewardess were running around giving people sick bags as quick as they could.
"There were a lot of queues for the toilets and we were all a bit queasy.
"I don't know what caused it but it was a long journey and a bit bumpy. A lot of people were ill very quickly."
Both sisters were checked over by paramedics before returning by coach to Cardiff.
Their mother, Welsh TV presenter Angharad Mair, said: "It was a bit worrying but it is great to see them back."
'Infection'
Bet Davies, from the Wales Millennium Centre, went to South Africa with OKA and was on the flight with the children.
She said: "The medics say it could have been somebody with a bit of a bug before they travelled, or it could be a combination of what I describe as nausea, tiredness and not drinking enough.
"The ambulance came to check the children over as a precaution to make sure they weren't bringing an infection into the country."
The choir, Terfel and Cape Town Opera's chorus performed a new piece by royal wedding composer Paul Mealor at two sell-out concerts at the Artscape Theatre Centre on Friday and Saturday nights.
It was part of the Africa-UK arts and culture season to mark the 20th anniversary of the end of apartheid rule and the establishment of democracy in South Africa.
Mealor, who was commissioned to write Ubi Caritas for the wedding of the Duke and Duchess of Cambridge three years ago, wrote the tribute to Nelson Mandela.
OKA was founded by Only Men Aloud's music director Tim Rhys-Evans, and includes children from across Wales.
They are based at Cardiff's Wales Millennium Centre, which has had a 10-year partnership with Cape Town Opera.