Oscar Pistorius trial raises court filming concern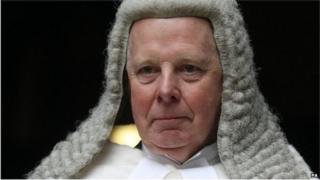 The Oscar Pistorius trial has raised concerns about allowing more filming in courts, the head of the judiciary in England and Wales has said.
Lord Chief Justice Lord Thomas said he wanted a "pause" before going much further with televised proceedings.
Lord Thomas told the Lords constitution committee: "I have been very troubled by what has happened in South Africa."
Recent law changes allow for the possibility of filming the sentencing remarks of judges in Crown Courts.
Ministers are actively considering this move.
Report ordered
Last year Parliament agreed to allow the live broadcast of Court of Appeal proceedings, which began in October. The Supreme Court is filmed and streamed live on the internet.
Lord Thomas has asked a member of his staff to write a report on what happens in South African courts and elsewhere in the world, before making any more decisions.
Paralympian Oscar Pistorius is on trial in South Africa charged with intentionally killing his girlfriend Reeva Steenkamp in February last year, which he denies.
Mr Pistorius has broken down on several occasions during the trial, often disrupting proceedings.
Filming at the Court of Appeal followed a partial lifting of the long-standing ban on cameras in court.
Lawyers' arguments and judges' comments can appear but defendants, witnesses and victims are not shown.
Cameras are not yet allowed in Crown Courts and magistrates' courts.
In Scotland, broadcasters have been able to apply to televise court proceedings since 1992 but this rarely happens.
Camera prediction
However, former Director of Public Prosecutions Keir Starmer has predicted that interest in the Pistorius trial means cameras could broadcast live from criminal courts within the next five years.
He told the Daily Mail it was "odd" that people knew more about the legal system in other countries than their own.
"The case for cameras in courts really gets stronger and stronger. The principle is open justice and there's a disconnect between the fact we've got a right to walk into any court but it can't be screened," he said.
"Most people don't have the time to go to court and therefore they don't know what's going on in courts.
"And it is odd that I suspect in most households the legal system in Italy because of the Amanda Knox case, in South Africa because of the Pistorius case and then the US because of OJ Simpson are better known than their own legal systems. Most people know something about those cases."