Man accused of breaching terror order appears in court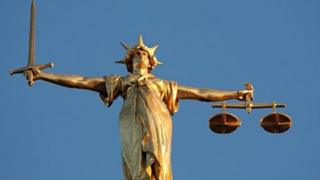 A man has appeared in court charged with breaching the conditions of a terror order.
The man, who cannot be named for legal reasons, is accused of two offences under the Terrorism Prevention and Investigation Measures (TPim) Act 2011.
He was remanded in custody at Westminster Magistrates' Court and will appear at the Old Bailey on 19 May.
Earlier, West Midlands Police said he was arrested on Thursday for allegedly breaching his TPim conditions.
Detective Superintendent Shaun Edwards, head of investigations for West Midlands counter-terrorism unit, said: "These measures are imposed to protect the public and we will always take swift action when we suspect they have been breached."
It was said earlier that the man could be identified only as DD for legal reasons. A court official told the Press Association he was now known as GG.
TPims, which were introduced in 2012, are placed on terror suspects - who officials decide can neither be charged nor deported - by the home secretary.
Restrictions include electronic tagging and reporting regularly to the police.