Pictures appear to show RAF man posing with dead Taliban fighter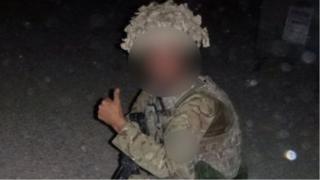 Photographs have emerged which appear to show at least one UK serviceman posing with a dead Taliban fighter.
The graphic pictures were taken in the aftermath of an attack by insurgents on Camp Bastion, the main British base in Afghanistan, in 2012.
The images first appeared on website Live Leak. The Ministry of Defence said they came to its attention last month and military police were investigating.
Two RAF Regiment members have already been withdrawn from frontline duties.
Two US marines were killed in the September 2012 attack on Camp Bastion, in Helmand province.
A number of British soldiers were injured and six US Harrier jets were destroyed.
The photographs show some of the damage caused, but two appear to show at least one member of the RAF Regiment giving a thumbs-up sign, kneeling next to the bloodied body of a dead insurgent.
It is not clear whether the two images show the same serviceman.
It is believed the serviceman, or servicemen, are from 51 Squadron RAF Regiment. The squadron, based in Moray, was involved in defending Camp Bastion during the attack.
Defence sources say there is no excuse for such behaviour, which appears to break military rules.
An RAF spokesman said it had a "zero-tolerance policy on the mistreatment of deceased enemy personnel" and this case was being treated "extremely seriously".
"We can confirm that the incident is currently subject to an ongoing RAF Police investigation and therefore, it would be inappropriate to comment further at this time," he added.
BBC defence correspondent Jonathan Beale said the situation was "deeply embarrassing" for the UK military but it was "not on the same scale" as the abuse of prisoners by US personnel at Abu Ghraib prison in Iraq, which came to light in 2004.
He also said it was not "on the same scale" as the killing of an injured insurgent in Afghanistan by a Royal Marine, Sergeant Alexander Blackman, in 2011.
But he said the military must take such incidents "very seriously" and he expected "some kind of punishment" for the individuals involved.
The RAF Regiment is the ground fighting force of the Royal Air Force.
A report by MPs published last month said British commanders must "bear a degree of responsibility" for the failure to prevent the 2012 raid on Camp Bastion.
Prince Harry was serving at the camp as a member of the Army Air Corps at the time of the attack.