Prince William becomes British Sub-Aqua Club president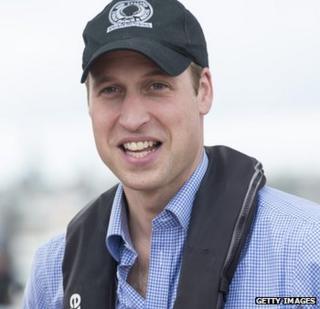 The Duke of Cambridge has become the third generation of the monarchy to head the British Sub-Aqua Club.
Prince William is following in the footsteps of his father and grandfather as president of the UK governing body.
Writing in the BSAC magazine, Scuba, he pledged to continue the Prince of Wales' efforts to preserve and protect the marine environment.
He added he hoped his nine-month-old son Prince George would follow him by taking up snorkelling and scuba diving.
"Just like my grandfather and my father, I am proud to say that I learnt to dive with BSAC, and share your passion for the sport and the underwater world," he said.
Prince William said scuba diving had "opened my eyes not only to many extraordinary sights, but also to the responsibilities that we have as guardians of the underwater world.
"Which is why, as BSAC's new president, I hope to continue my father's legacy of striving to preserve and protect our precious marine heritage and environment for future generations."
Prince William said he also looked forward to working with BSAC to encourage even more young people into the sport.
"I hope that one day my son, George, will also experience the wonders that snorkelling and scuba diving have to offer," he said.
BSAC, which represents more than 30,000 scuba divers and snorkellers, has 120 dive centres and more than 1,000 affiliated clubs.
BSAC chairman Clare Peddie said: "Having the duke at the helm of our organisation as we move into a new era is a huge and special privilege.
"It is also a chance for us to say thank you to his father, the Prince of Wales, for the four decades of committed service he has given to BSAC."