Mental health: Veterans tell of adjusting back to Civvy Street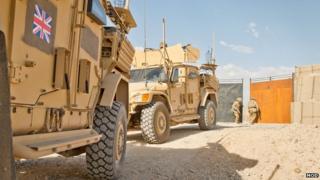 The Combat Stress charity says there has been a "significant increase" in the number of Afghanistan veterans seeking help for mental health treatment.
People affected by post-traumatic stress disorder (PTSD) describe the difficulties of readjusting to life on "Civvy Street", often experienced many years after they leave the military.
Here, four ex-servicemen tell their stories.
Gary Driscoll
When a young man on the Tube was playing loud music through his mobile phone, most passengers ignored him. But former Colour Sergeant Gary Driscoll, a veteran of five tours of Northern Ireland, took action.
"In the back of my head I could hear my platoon sergeant saying 'what are you going to do about it'", he said.
As the doors opened at the next stop, Mr Driscoll got to his feet and shoved the man off the train. Turning around, he expected congratulations or applause. But his fellow passengers looked scared.
"I was more of a problem than he was", he said.
"That sums up what an ex-soldier has in his head. That was my way of life. I had to realise that everything you think about, the way you dress, the way you walk, everything is completely alien out here."
The 54-year-old narrowly survived a murder attempt by a sniper on the first day of a four-month tour and lost three friends in an ambush, but said such incidents did not affect him until after he left the Army in 1995.
"You just crack on", he said.
"If anyone thought you had a problem they would probably take you out of your job - and in my case, I was a sergeant and you didn't want to show any weakness."
The norm was to "have a beer and forget about it, which is just about the worst thing you can do", he said.
Returning to "softer" civilian life, Mr Driscoll said he became emotional and aggressive at times, and sought the company of other ex-service personnel.
"When you leave the Army, nobody tells you how to switch off", he said.
With his marriage suffering, his wife persuaded him to seek help from Combat Stress, where he learned mindfulness techniques that helped him focus on the present and made it easier to talk about his experiences.
"I'm not cured as such, it's about knowing how to control it", he added.
Jake Wood
Returning to his old job in an investment bank proved impossible for Jake Wood, a former lance sergeant in the Territorial Army who served in Iraq and Afghanistan between 2003 and 2007.
"Very, very quickly it became clear that I couldn't work there", he said, describing how his experiences returned to haunt him.
"When you are on patrol, you are hyper vigilant for threats. Particularly if you have seen someone killed, that hyper vigilance becomes seared into your brain and the danger is you bring that back with you."
This happened through flashbacks, nightmares, and reactions to "triggers" like loud bangs.
"I was in a restaurant yesterday and someone clapped their hands sharply behind me," Mr Wood said. "All of a sudden I was not sitting behind that table, I was, in my mind, in a ditch in Afghanistan with Kalashnikov bullets going over my head."
The 41-year-old, who has written a book about his experiences, called Among You, describes PTSD as having "unprocessed memories" in the brain that have been "quarantined off". The flashbacks, he says, are these memories "leaking back into your mind".
Intensive psychiatric treatment from the Ministry of Defence helped but did not cure him, he said, and he was medically discharged because of his PTSD.
"It's about trying to force your brain to process these memories, in visceral detail", he added.
Stephen Coyle
Stephen Coyle was a corporal clerk in the Adjutant General's Corps. He did three tours of Afghanistan and suffered post-traumatic stress disorder caused by being under "constant stress".
The 28-year-old, from Bootle, Merseyside, received counselling from charity Talking2Minds after suffering for about a year.
He said: "I became emotionally numb and distant, as in, if I didn't feel, I couldn't be hurt. I was trying to push being positive all of the time and hide my feelings.
"I could bottle up a lot, I did bottle up a lot, so when I did go, that was it, I was very sad and in a deep and dark place.
"I was not sleeping, constantly going over what was making me sad, not finding anything to be happy about. Looking at my little boy, who I adore, and still not being happy.
"Whereas now, I look at him, and I'm happy, sunshine, that's all I can describe him as, bright yellow sunshine. That's my little boy, and that's the difference."
Wane Tabone
When he came back to the UK after a tour of Afghanistan in 2009, Wane Tabone said he felt isolated and abandoned by the Army, and was diagnosed with post-traumatic stress disorder.
His main purpose during the tour was to expose the enemy, leading to seven months of intense combat.
"You'll be in a fire-fight pretty much every day," he said. "You're taking rounds and there's incoming rounds and you're just getting on with it."
One of his best friends died and many others suffered serious injuries including lost legs and broken backs.
"I hate to think how close it was on more than one occasion," he said. "We were lucky and unlucky.
"We were unlucky in the way that we did lose somebody that was with us and lucky in the way that it was only one person."
When he came back to the UK, he said he felt isolated and abandoned by the Army, and he was diagnosed with post-traumatic stress disorder.
"Without noticing, your life changes," he said. "You have broken sleep, repetitive thoughts and dreams.
"The OCD [obsessive-compulsive disorder] side takes over massively, the cleanliness and all that type of stuff.
"You start getting short-tempered and when you're not sleeping the whole culmination of all these things slowly, slowly starts to take over your life."
Mr Tabone said getting help had been an important step in his recovery.
"I'm not saying I'm in an amazing place right now but compared to where I was, I am in a better place and I understand it's going to take a lot longer as well, to be that person I was before I went," he said.
"I don't think I'm ever going to leave it behind. Unfortunately, some of the stuff that's gone on and some of the stuff I've done, I don't think I'll ever be able to forget.
"I've found another job and I'm moving on."