Briton accused of Syria terrorism 'wanted better life'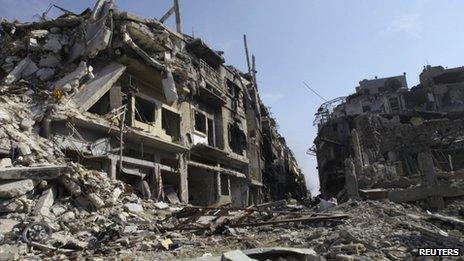 A British man accused of preparing to commit acts of terrorism in Syria has said he went to the country looking for a better life.
Mashudur Choudhury, 31, told a jury at Kingston Crown Court he wanted to emigrate to escape problems at home.
He said his three-week trip to the war-torn country was to find out whether it was possible to move his family there.
Mr Choudhury, from Portsmouth, denies preparing for acts of terrorism by travelling to the country in 2013.
The prosecution say the father-of-two researched training in Syria and then arranged to go there alongside other men from Portsmouth.
He was arrested at Gatwick Airport on his return on 26 October last year.
Giving evidence on Tuesday, Mr Choudhury said he wanted to leave the UK to escape a multitude of problems that had been building up over four years.
He said he felt he had let down his wife after a business venture failed.
He told the jury he began constructing elaborate lies to avoid his real difficulties, including convincing others he had stomach cancer and needed to have treatment in Singapore
"The lie became easier to live. I'm utterly ashamed and embarrassed. I degraded myself to a level I never thought I could go," he said.
Mr Choudhury said that by mid-2013 he was considering leaving Portsmouth behind and had initially considered moving his family to Bangladesh.
Around the same time, a friend from Portsmouth, Ifthekar Jaman, joined rebels in Syria and began posting his experiences online.
Mr Choudhury remained in contact with Mr Jaman and in October 2013 he and four other men decided to go to the war zone. Mr Jaman is since thought to have died in fighting.
Mr Choudhury said the others wanted to do "a noble thing" by offering to help the Syrians, but he was only thinking about his own plans.
"I wanted to go to see for myself the possibility of taking my family," said Mr Choudhury.
"My intention was to go there and see if I could create this new life that I imagined.
"I was going there for my own personal reasons... to leave behind the lies, the deceit and the debt."
Mr Choudhury said he had neither a religious nor political motive for his trip because he believed there were peaceful parts of the country where he could settle.
But the prosecution say social media records show Mr Choudhury planned to receive military training. He had asked Ifthekar Jaman detailed questions about how to prepare and had been involved in jihadist discussions with others, they argue.
Those conversations were just an attention-seeking front, said Mr Choudhury.
"I pretended to be interested," he said. "I was pretending to be someone who's pious and practising."
He said that while he personally had no intention of getting involved in the conflict, he did not believe that foreigners fighting there should be called terrorists.
Joel Bennathan QC, defending, asked: "Do you regard your friend Ifthekar as a terrorist?"
"No, I do not," replied Mr Choudhury.