Bulgarian and Romanian job figures to be revealed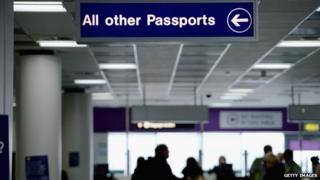 The first figures showing the number of Bulgarians and Romanians in work in the UK since restrictions on their movement were lifted are expected later.
The statistics will show the numbers who were in work in Britain between January and March this year.
Some 144,000 people from Bulgaria or Romania were employed in the UK between October and December 2013, before controls ended on 1 January.
That figure was up from 112,000 in January 2013.
No estimate
The pressure group Migration Watch estimated the UK could expect 50,000 arrivals a year from the two countries. The Bulgarian ambassador put the number who would come from Bulgaria at about 8,000.
Ministers were criticised earlier this year for not producing an official estimate of how many people might come from Bulgarian and Romania.
The Home Affairs Select Committee said the decision "increased anti-immigrant prejudice".
It said the increase in immigration from the two Eastern European states had been "more a trickle than a flood."
The new figures are likely to be the subject of much political debate, coming in the run-up to the European and local elections next week.
The government has recently introduced a number of measures limiting the amount of out-of-work benefits migrants from the European Union can claim.
From July, those looking for work will need to have lived in the UK for three months to claim child benefit and child tax credit.
There is already a three-month wait before migrants can claim jobseeker's allowance.