Phone-hacking trial: Details held for royal 'discretion'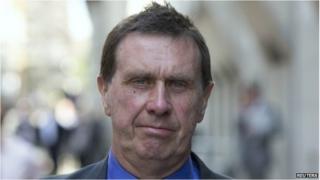 Police did not reveal the full extent of phone hacking in 2006 because they wanted to protect victims, including Royal Family members, a court heard.
Former News of the World royal editor Clive Goodman said the police and Crown Prosecution Service wanted to "protect the discretion of the victims".
He also said hacking provided all major stories in the years before his arrest.
Mr Goodman previously admitted hacking but denies conspiracy to commit misconduct in a public office.
On Wednesday Mr Goodman, 56, of Addlestone in Surrey, told the court he hacked Kate Middleton's phone 155 times, starting in December 2005.
He also said he hacked the phone of princes William and Harry before being sacked in 2007.
'Five-act opera'
Mr Goodman appealed against his dismissal and recorded a hearing with two senior executives at News International, the News of the World's parent company.
In a transcript of that recording, Mr Goodman said that - compared with a colleague who cannot be named for legal reasons - he was just a "spear carrier" rather than the "five-act opera" of hacking.
He told the Old Bailey that, at the time he was caught, "there was not a single significant story broken at the News of the World in the last couple of years" that the colleague had not got from tampering with phones.
Mr Goodman and private detective Glenn Mulcaire were jailed in 2007 for phone hacking.
The jury earlier heard claims Mr Goodman was bullied and undermined at the News of the World by people including Andy Coulson, who was editor from 2003-07.
In his latest evidence, Mr Goodman said one senior editorial figure even tried to stop him talking to his sister, who was a senior sub-editor at the paper.
Mr Goodman told the jury about a time in 2005 when he asked to be excused from a royal tour to the US because his wife had recently had a baby and had been called to a meeting in France by her employer.
He said Mr Coulson was "not terribly sympathetic", adding: "He kicked the desk."
Mr Coulson has denied being a bully.
The News of the World closed in July 2011 after it emerged voicemails left on the mobile phone of murdered Surrey teenager Milly Dowler were intercepted.
Mr Goodman is one of seven people, including Mr Coulson, currently on trial for various offences related to hacking.
The all deny all the charges.