Blue badge fraud prosecutions 'double over three years'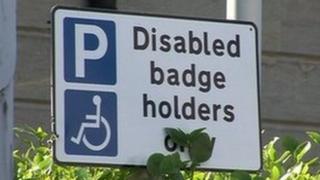 Blue badge fraud prosecutions have doubled over three years, figures from English councils have revealed.
The Local Government Association (LGA) said professionals such as architects and lawyers were among the offenders.
Some were caught using a dead relative's pass or leaving a disabled person at home to get free parking while shopping or at work, it said.
The figures showed that there were 686 successful council prosecutions last year, up from 330 in 2010.
Councils have been cracking down on parking fraud and using new powers to confiscate blue badges they suspected were being used by someone other than the lawful holder.
Some local authorities have set up special enforcement teams to tackle the fraud.
'Shocking'
Chairman of the LGA's economy and transport board Peter Box condemned misuse of the badges.
"It is shocking how low some people are stooping in order to con a few hours of free parking, including using a dead relative's blue badge or leaving a disabled parent trapped in their home," Mr Box said.
"Councils are determined to do everything in their power to protect the quality of life for our disabled and vulnerable residents."
The nationwide blue badge scheme allows holders to park free in pay-and-display areas and for up to three hours on yellow lines.
According to the LGA, Stoke-on-Trent City Council, Hull City Council and Plymouth Council recently managed to secure their first prosecutions against those guilty of blue badge fraud.
Manchester City Council has achieved a 100% conviction rate, with more than 500 prosecutions over the last five years, it said.
At least two million disabled people hold blue badges across the UK, with those living in London exempt from the congestion charge.
People who are registered blind, receive war pensioners' mobility support, have a disability that means they cannot walk or struggle to walk, and drivers with a severe disability in both arms are among those eligible for a blue badge.