Hacking trial: Royal editor 'manipulated' by Andy Coulson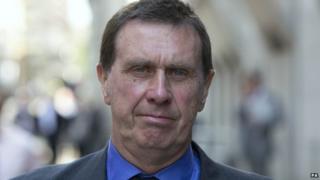 The former royal editor of the News of the World has said he felt he had been "manipulated" into taking the "full blame" for phone hacking at the paper.
Clive Goodman told the Old Bailey he felt the newspaper's former editor Andy Coulson, its owner News International, and his own solicitor, had been "negotiating behind his back" after his arrest for phone hacking in 2006.
He was then jailed in 2007.
Mr Goodman, 56, denies conspiracy to commit misconduct in a public office.
He is is one of seven people, including Mr Coulson, currently on trial for various offences related to hacking.
The defendants deny all the charges.
Mr Goodman was arrested on 8 August 2006 along with private investigator Glenn Mulcaire for hacking the phones of members of the royal household.
The ex-royal editor was later jailed for four months for intercepting voicemail messages left for royal aides, while Mulcaire was jailed for six months.
Giving evidence at the hacking trial, Mr Goodman said his solicitor at the time of his arrest had been appointed for him and was being paid for by News International - the owners of the now defunct newspaper.
Financial ruin
As the phone-hacking scandal at the newspaper grew, he became "increasingly suspicious of the intentions of News International and my solicitor", saying he thought they had been "all acting together to put me in the centre of all this".
He told the jury how he felt he was being "manipulated by Mr Coulson into taking the full blame for hacking at the News of the World".
He added that this "turned out to be the case".
Mr Goodman told the hacking trial he had then taped conversations, including a meeting with Mr Coulson, following his arrest.
"I felt they were interfering with my legal case and I felt I could not trust them and I felt I needed some protection," he told the jury.
Mr Goodman, under cross examination by Mr Coulson's lawyer, Timothy Langdale QC, said he had been happy to share defence documents with a News International lawyer after his arrest.
In the days after his arrest Mr Goodman said he had been "trying to hang on to a career" and was holding onto the "slender hope" he could still return to the paper.
The former royal editor said he feared that if he had not co-operated with the newspaper he would have been sacked and News International would have stopped paying his legal fees.
"I would have faced not only prison, not only shame, but also financial ruin," he told the jury.