Businesses win riot damage ruling at Court of Appeal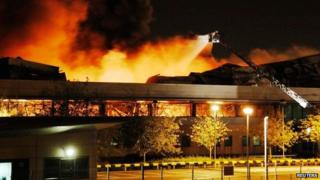 Businesses whose property is damaged in riots can recover "consequential" losses stemming from the incident, the Court of Appeal has ruled.
Previously it was believed compensation payable by police under the Riot Act was limited to physical damage.
The case was brought against the London Mayor's Office for Policing and Crime by insurers of Sony, whose warehouse in Enfield was attacked and burnt in 2011.
The incident was the largest ever arson attack in Europe, lawyers say.
About 25 youths smashed their way into the warehouse, looted it and then threw two petrol bombs, leaving the building to burn for almost 10 days, resulting in its total destruction.
Other businesses
The BBC's legal correspondent, Clive Coleman, says the court ruling could affect other businesses burnt and looted in the August 2011 riots, and those affected by any future riots.
He says the judgement does not mean that businesses will receive every penny of their "consequential" business losses.
If, for example, the business owner has invited rioters inside, or does not have a sprinkler system that would have reduced loss, that can be taken into account.
The Mayor's Office for Policing and Crime said it noted the court's judgement and was "considering potential next steps in the legal process".
It had initially declined to compensate Sony's insurers for property damage and business interruption losses but lost a case brought to the Commercial Court in respect of the physical damage.
The judge in that case held that consequential losses were not payable under the Riot Act.
However, that decision has now been overturned on appeal in what lawyers for Sony's insurers called a "landmark ruling".
'Welcome news'
David Wilkinson of Kennedys law firm, which acted for insurer RSA, said: "This is no doubt welcome news for the insurance industry as a whole.
"Insurers and uninsured claimants will now be able to recover business interruption losses suffered as a result of the August 2011 riots.
"However, whether each and every claim will be ultimately paid remains to be seen as police authorities are still entitled under the 1886 [Riot] Act to 'fix' an amount of compensation as appears to them to be 'just', having regard to all the circumstances."
Legal sources say Tuesday's ruling could cause the government to seek changes to legislation to limit losses recoverable under the Act.