PM pays tribute to D-Day veterans on HMS Belfast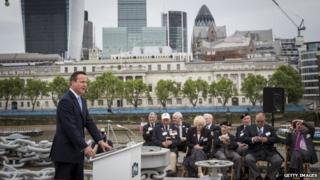 David Cameron has paid tribute to Britain's D-Day veterans ahead of the 70th anniversary of the Normandy Landings.
The prime minister described his "awe and pride" at an operation which marked "the beginning of the end of fascism".
He was speaking on board HMS Belfast, the World War Two ship, which is moored on the River Thames.
The five surviving D-Day veterans who served on HMS Belfast were also present at the commemorative ceremony.
The 6 June 1944 attack saw more than 156,000 Allied troops storm the beaches of France and marked the beginning of the end of WWII.
HMS Belfast spent five weeks supporting the D-Day landings, firing thousands of shells.
The Prime Minister told the veterans he would educate his children about the bravery shown by those serving their country.
He said: "You are the heroes that I read about in textbooks and history books at school.
"As a boy I learned the names of those beaches. I was taught about this glorious chapter in our history.
"I will teach [my children] that the freedoms we enjoy weren't just handed down, they were hard won.
"I will teach them that their generation and my generation owe your generation so much."
Tuesday's ceremony came ahead of huge commemoration events planned for both the UK and France in June, including an international event on one of the Normandy beaches attended by veterans and dignitaries including the Queen, Mr Cameron, and US President Barack Obama.