Phone-hacking trial: Rebekah Brooks 'victim of witch hunt'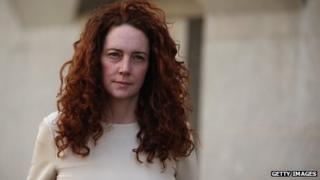 The trial of Rebekah Brooks has resembled a "witch hunt", her barrister has told the Old Bailey.
In his closing speech at the phone-hacking trial, Jonathan Laidlaw QC said the former News International chief had been portrayed as "an arch criminal".
Mr Laidlaw said the prosecution's story was "less of a novel, more of a pantomime".
Mrs Brooks denies conspiracy to hack phones, pay public officials and pervert the course of justice.
The former News of the World editor and News International chief executive spent two weeks giving evidence, including five days of cross-examination by the prosecution.
In the second and final day of his closing speech, Mr Laidlaw told the jury that a witch in a 16th Century medieval trial "could not win… if she drowned she was dead, if she survived the ducking stool she was burnt at the stake."
Mrs Brooks's lawyer said he was not suggesting that this prosecution was a witch trial, but it had at times been a witch hunt.
"The prosecution story is less of a novel, more of a pantomime, and the cast of villains is extraordinary," he said.
Turning to accusations that when she was faced with hacking that she had failed to act as a proper chief executive should, he said Mrs Brooks accepted she had made mistakes in how she had responded.
But he added: "She is not the first or the last CEO to act single-mindedly to protect the reputation of the company she worked for.
"As CEO she did have a duty to act in its best interest. The prosecution cannot prove to you her decision not to get her spade out and start digging for evidence for phone hacking is anything to do with a fear that she would unearth evidence of her own guilt.
"Her response to the scandal was motivated by the desire to prevent further damage to the company."
'No knowledge of payments'
Mr Laidlaw said the prosecution had failed to prove that Mrs Brooks was part of a conspiracy to make illegal payments to public officials for stories when she was the editor of The Sun.
The trial has heard that Mrs Brooks received 11 emails to authorise payments - but her lawyer said none of them showed that the reporter who sent them had disclosed that his "ace military contact" was a public official - or that Mrs Brooks knew that to be the case.
That "military contact" was not necessarily someone who worked in the military, he said. The source could have been another journalist or a former military figure, "just the sort of person who might become an ace military contact to an experienced journalist."
In order for the prosecution to be correct Mr Laidlaw told the jury, everybody around her would have been "sat down" by Mrs Brooks and asked to lie and destroy evidence. Those people, the jury heard, would include Mrs Brooks mother, Deborah Weir, "a farmer's wife in her 70s."
Attacking the general thrust of the prosecution case, he told the jury, "It is beyond ridiculous. The prosecution are trying to make you buy this fantastic tale of what she did and the people she corrupted."
The trial continues.