Rolf Harris 'told mother her teen liked him groping her'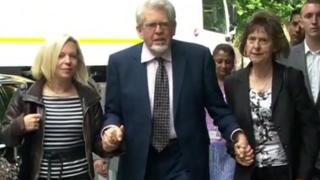 Rolf Harris told the mother of a teenage girl he groped in Australia that "she liked it", a court has heard.
The woman said she called the artist a "disgusting creature" as he had also rubbed himself against her while they had a photo taken at a 1991 art event.
Southwark Crown Court heard Mr Harris laughed as he groped the woman's daughter, who was 15 or 16 at the time.
Mr Harris, 84, denies 12 indecent assault charges related to four girls aged between seven or eight and 19.
The incidents are alleged to have taken place between 1968 and 1986.
Speaking via video link, the mother and daughter, from Australia, described the defendant as a "dirty old man".
The daughter said she was left in shock.
"He put his right hand on my left breast and through my shirt. I had a shirt that was gathered and did not have buttons on the front," she said.
"He put his other hand on my right butt cheek. His hand was over my bra but through my shirt.
"It was very deliberate. I stepped back and he laughed."
The alleged assault does not form part of the formal charges against Mr Harris, of Bray, Berkshire, because it took place outside the UK at a time before foreign incidents could be tried in British courts.
'Very forceful'
The daughter, now 39, told the court there were about 20 people at the art presentation in Hamilton, which she attended with her mother.
He groped her as she tried to shake his hand when she was introduced to him, she said.
The woman's mother told the court Mr Harris was "close enough to be rubbing himself against my buttocks" as she and her daughter posed for a picture with him.
"It was very brief but very forceful," she said.
"I put my foot down on his foot and turned around and told him he was a disgusting creature."
She told the court Mr Harris's expression "went from smiling friend to a sneer".
'A creep'
"He leaned forward right in my face and said, 'She liked it.' It was really sinister," she said.
The woman told the court she knew Mr Harris was referring to her daughter because he looked at her when he spoke.
She said as she and her daughter left the premises, her daughter said Mr Harris was a "creep" and "very handy".
"I asked her what had happened. She was reluctant," the mother said.
"I did suspect he had touched her in the vicinity of her breast."
The case continues.