Rise in EU immigration to the UK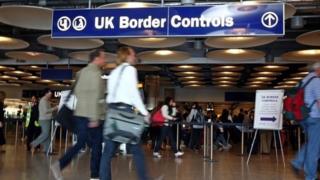 Official figures show a rise in the arrival of European Union citizens to the UK in the year to December 2013, but net migration remains unchanged.
The latest figures from the Office for National Statistics said net migration remained at 212,000, unchanged from the previous quarterly figures.
Separate data shows a 7% rise in registrations of overseas workers to 603,000 in the year to March 2014.
Net migration means the number of people arriving, minus those leaving.
The level of net migration stands at more than twice the government's target of 100,000 a year.
Statistically significant
The detailed figures show that in the year to December 2013, some 201,000 EU citizens came into the UK as long-term immigrants, something officials said was a statistically significant increase of 43,000 over the previous year.
Of those, 125,000 came for work reasons, up from 95,000 the year before.
However, due to changes in movements of other categories of people, the overall net migration figure remains unchanged.
The ONS said recent patterns of net migration had shown rises over the past two years, but the trend continued to be lower than the general levels seen since 2004.
The ONS said the number of National Insurance numbers issued to overseas workers rose 7% to 603,000 in the year ending March 2014. Of those, there were significant rises in registrations by workers from four EU countries:
Polish registrations were up by 11,000 to 102,000
Italian registrations rose by 9,000 to 42,000
Bulgarian registrations climbed by 7,000 to 18,000
And Romanian registrations increased by 29,000 to 47,000.
The overall level of immigration remains at approximately half a million people a year while the number emigrating for the long term stood at just over 300,000.
Work remained the most important reason for people wanting to come to the UK, said the ONS, with study second.
Labour controls
In total, 23,000 people from Romania and Bulgaria came to the UK as long-term migrants in 2013, up from 9,000 the previous year. This rise occurred before the end of labour controls on workers from both countries.
The detailed figures show that recent trends are continuing. The number of EU citizens arriving has been rising while the number of people from the rest of the world remains lower than peaks seen in the mid-2000s.
Second, the number of overseas students from outside the EU is continuing to decline.
Four years ago, approximately 100,000 people a year were coming to study from "New Commonwealth" countries - broadly meaning former British territories in Africa, Asia and the Caribbean. That figure now stands at 35,000.
In broad terms, around half of long-term immigrants arriving for work are EU citizens, up to 30% are non-EU and the rest are British citizens.