Rolf Harris trial: 'No evidence' entertainer at events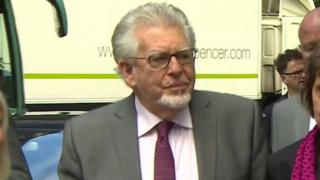 No independent evidence exists to prove entertainer Rolf Harris was at events where he allegedly groped two girls, a court has heard.
Southwark Crown Court was told there was no trace of him appearing at a community centre near Portsmouth in 1969 or an event in Cambridge in 1975.
Nothing was found despite searches of newspaper archives, the jury heard.
Mr Harris, 84, denies 12 counts of indecent assault on four girls aged between seven or eight and 19.
The incidents are alleged to have taken place between 1968 and 1986.
One alleged victim claimed he groped her bottom, when she was 13 or 14, outside a Celebrity It's a Knock Out event in Cambridge.
Letter drops
Sonia Woodley QC, defending, put it to senior investigating officer Det Sgt Gary Pankhurst: "There is no independent evidence of any kind to put Mr Harris in Cambridge in the year of 1975."
Det Sgt Pankhurst said that the alleged victim had not been entirely sure of the date, but "1975 was clearly she felt the most certain".
Another woman claimed Mr Harris touched her intimately when she was seven or eight after she queued to get his autograph at a community centre near Portsmouth in 1969.
No confirmation could be found that Mr Harris had been there, despite searches of local newspaper archives, council records and letter drops appealing for witnesses.
This included looking at copies of the Portsmouth News between January 1967 and May 1974.
When the allegation was put to Mr Harris, he told police: "I would simply never touch a child inappropriately."
Swimming pool
Earlier, the jury of six men and six women was shown cine film footage of a third alleged victim who was friends with Mr Harris's daughter Bindi.
The footage, taken in Australia in 1978, showed the alleged victim swimming in a pool wearing a light-coloured bikini.
Det Sgt Pankhurst told the court officers from Operation Yewtree received a referral from the child abuse charity, the NSPCC, three weeks after the investigation was set up.
A counsellor claimed they had been dealing with a woman since 1998 who said she had been abused by Mr Harris. The woman herself - the third alleged victim - came forward the following day.
The following month police searched Mr Harris's home in Bray, Berkshire, while he was abroad but his daughter was present, and seized exhibits including the cine film.
In a prepared statement to police, Mr Harris said about his daughter's friend: "I categorically deny having had any sexual contact with the complainant whatsoever while she was under the age of 16.
"I accept that I did have a consensual sexual relationship with the complainant when she was an adult. I finished the relationship and she was extremely upset."
Television interview
Another alleged victim, Tonya Lee, who has waived her right to anonymity, was interviewed by British police in Australia.
Det Sgt Pankhurst said they spoke to her separately from her boyfriend Fian McDaid because he was "controlling".
The officer said: "He was very suspicious of us and appeared to want to manage the whole situation."
Jurors heard that Ms Lee gave a magazine and a television interview in Australian in return for a fee.
Mr Harris told police in a statement: "I'm afraid that her actions do suggest that she may be motivated by a desire for fame and financial reward."
The court was told that Mr McDaid, who served a jail term for assaulting Ms Lee, claimed she had invented the allegations against Mr Harris.
The trial will resume on Tuesday when the defence case is set to begin, and is expected to start with Mr Harris giving evidence.