UK troops 'to leave Afghanistan as planned'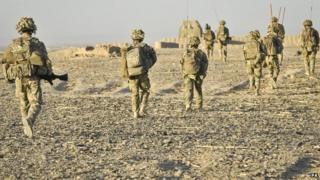 Plans to keep nearly 10,000 US troops in Afghanistan will not affect the timetable for UK soldiers coming home, the BBC understands.
Intentions for all British troops to leave Camp Bastion by the end of this year remain in place.
Between 160 and 180 British service personnel will continue to run a training facility north-west of Kabul.
The British government was concerned about whether sufficient US troops would remain to offer them protection.
Downing Street said Prime Minister David Cameron and President Barack Obama had spoken on Monday and discussed strategies for the International Security Assistance Force's (Isaf) withdrawal from Afghanistan.
Surprise visit
The president has said the US will keep 9,800 soldiers in Afghanistan after it ended its combat mission there at the end of this year.
The announcement followed a surprise visit by President Obama to Kabul over the weekend, where he met US troops.
His plan calls for troop levels to be reduced from their current force of 32,000 by the end of 2014.
BBC political editor Nick Robinson said: "I understand that they had expected the US to keep between 10,000 and 12,000.
"The announcement by President Obama that 9,800 US troops will remain until 2016 is considered sufficient to ensure the safety of British personnel."
The British service personnel who are to remain in Afghanistan will run the training camp there.
It is thought the number of US troops left will be enough to offer "life support" to the facility.
In a statement, a Downing Street spokeswoman said: "The prime minister spoke to President Obama yesterday evening ahead of seeing each other at the G7 meeting in Brussels next week.
"The call focused on Afghanistan, following the president's visit there at the weekend and in the context of the end of Isaf combat operations at the end of this year.
"They discussed the latest situation on the ground, including the successful first round in the presidential election; the prospects of the US signing a bilateral security agreement with the next Afghan president; and the capability of Afghan forces.
"And the president set out his thinking on the US military commitment to Afghanistan from 2015 onwards."