Archbishop of Canterbury to meet Pope in Rome next month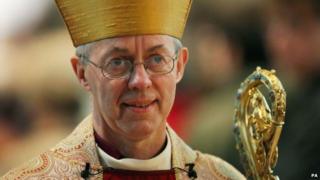 The Archbishop of Canterbury Justin Welby is to meet the Pope next month, Lambeth Palace has confirmed.
The head of the Church of England will visit Rome from 14 to 16 June as part of a human trafficking and modern slavery initiative he launched with Pope Francis last year.
The pair, who met in 2013 in a private meeting, will meet on the final day of the archbishop's trip.
Meanwhile, Pope Francis this week completed a tour of the Middle East.
Speaking to reporters during his return flight, he announced he was to meet a group of sex abuse victims next month, after he compared the "ugly crime" to performing "satanic mass".
He said he would show zero tolerance to anyone in the Roman Catholic Church who abuses children.
Refugees and poverty
During his trip to Rome, Archbishop Welby will visit the Anglican Centre in the city to hear about a new international Anglican Roman Catholic Commission on Unity and Mission website.
The site will be launched at the same time.
The archbishop will also see a church-based refugee project, visit the Sant'Egidio community mission and hear about poverty projects.
Lambeth Palace added that he would meet members of the international ecumenical Catholic foundation Chemin Neuf.
Four members of the foundation took up residence at Lambeth Palace earlier this year.
Archbishop Welby is currently in Pakistan, where he expressed concerns for the safety of the country's Christians, who are a minority.
Addressing a thanksgiving ceremony in a cathedral church in the eastern city of Lahore, he said Christians were being killed and the church suffered in many ways.
Referring to a twin suicide attack on the All Saints Church in Peshawar last year, Archbishop Welby added: "Our hearts were broken after the attack, we prayed for you everyday."
The blasts killed 127 people and injured 250. The attack is considered the worst ever against Christians in Pakistan, where they make up less than 3% of the population.
Archbishop is on a week-long tour that will also take him to India and Bangladesh.