Phone-hacking trial: Case against Andy Coulson 'cavalier'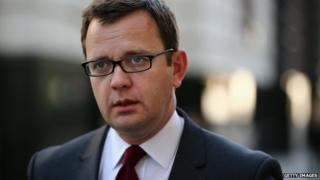 The case against Andy Coulson has been "broad brush" and "cavalier", the phone-hacking trial has heard.
There are a number of "gaps in the evidence" against the former News of the World editor, Mr Coulson's defence said.
Timothy Langdale QC also criticised the police investigation saying it had not been "rigorous, open-minded or fair".
Mr Coulson is one of seven defendants on trial at the Old Bailey. They all deny the charges against them.
Mr Langdale said that during the trial, prosecution theories had been proved to be impossible and criticisms of the police had been "cast aside".
He said it was "almost as if the juggernaut… of the police investigation and prosecution must keep moving, whatever legitimate obstacles are thrown in its path".
Mr Langdale called into question the evidence of Dan Evans, who has pleaded guilty to phone hacking and is only a witness in the current trial, and Clive Goodman, who was jailed in 2007 for the same offence.
Both men "had an agenda" and were "thoroughly unreliable", Mr Langdale said.
The jury was told the prosecution case was that phone hacking was an "open secret" at the News of the World.
Sienna Miller voicemail
If that was the case, suggested Mr Langdale: "Why are there no emails requesting hacking, or sanctioning hacking or anything of the kind?"
The barrister highlighted confusion surrounding dates of alleged events in the former News of the World reporter's evidence.
Evans had told the trial he played a voicemail left by the actress Sienna Miller on Bond star Daniel Craig's phone to a number of senior executives - including Mr Coulson - at the News of the World office in Wapping.
The former journalist had said he played the tape around "dusk" on 27 September 2005.
Mr Langdale reminded the jury that evidence suggested Mr Coulson was not in London that day, but rather at the Labour Party conference in Brighton.
Recalling Evans's evidence, Mr Langdale said his response at the time to Mr Coulson's whereabouts was: "Maybe it was another day, or the next day."
'Own agenda'
"That, ladies and gentlemen of the jury, will just not do," Mr Langdale said.
The barrister also said the prosecution, in its closing speech, realised "that their ship had been holed" and tried to "salvage something from the wreckage" by quoting Evans's earlier police statements.
He described Evans and former News of the World royal editor Mr Goodman as "unreliable" witnesses in the prosecution's case.
"A notable feature of this case is that the prosecution failed to call before you a single witness to testify that Andy Coulson was involved in phone hacking at the News of the World who does not have an agenda of their own to pursue," he said.
Mr Langdale then branded Mr Goodman's performance in the witness box a bit "prima donna-ish" and a "remarkable exhibition".
He said the jury had seen for themselves that the former royal editor was a "bit of a tricky customer", as Mr Coulson had suggested.
He also criticised Mr Goodman's assertion that he had taken no pleasure in outlining Mr Coulson's involvement in the phone-hacking affair, saying: "You could have fooled me."
Mr Goodman had said in evidence that he could not recall hacking anyone but royal aides.
When he returned to court after an eight-week absence due to illness, he admitted hacking princes William and Harry and - the then - Kate Middleton.
"His counsel described this as a white lie," Mr Langdale said.
"I am going to describe it as a whopper."
During this part of his closing speech, Mr Langdale also revealed, for the first time, that Mr Goodman had hacked Kate Middleton's mobile on Valentine's Day 2006.
The court had previously heard the now Duchess of Cambridge had been hacked 155 times - including on Christmas Eve, Christmas Day and Boxing Day 2005.
Mr Coulson denies charges of conspiring to hack phones and conspiring to commit misconduct in public office by agreeing with Mr Goodman to pay for two royal phone books.
As well as Mr Coulson and Mr Goodman, former News of the World editor Rebekah Brooks, former managing editor Stuart Kuttner, former head of security at News International Mark Hanna, Mrs Brooks's husband Charlie Brooks and her executive assistant Cheryl Carter are on trial in connection with phone hacking.