US spy drones flies in UK airspace for the first time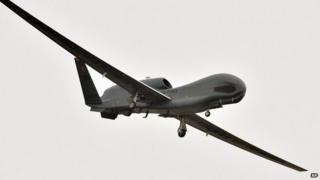 A US spy drone has flown through UK airspace for the first time, the Ministry of Defence has said.
The unarmed and unmanned Global Hawk reconnaissance aircraft was taking part in a Nato exercise and flew in segregated airspace.
The drone entered UK airspace on three occasions in the last month.
It travelled from a base in Italy, through southern Europe and on to Norway via UK airspace before returning, the MoD said.
Officials said the flights will help studies into the future of remotely-piloted air systems (RPAS).
Air Vice Marshal Phil Osborn said: "It is good to see existing airspace procedures enabling the seamless integration of remotely-piloted air systems, such as the unarmed Global Hawk aircraft, within European airspace.
"This trial will have helped with the development of the Nato alliance ground surveillance system (AGS) and the future airspace integration of RPAS."
The drones flew at 50,000 feet, which is well above the cruising altitude of commercial airlines, the MoD said.
The trial, codenamed Unified Vision, comes ahead of the Nato summit in Wales in September, where world leaders will gather to discuss issues including terrorism, piracy and cyber attacks.