World Cup: Banned England fans to hand in passports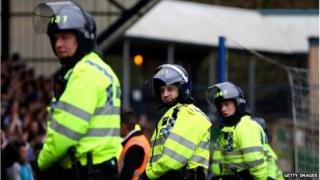 More than 1,400 football hooligans in England will have to hand their passports to police in the coming days to stop them going to the World Cup.
Passports must be surrendered on Monday or Tuesday, ahead of the tournament in Brazil which starts on 12 June.
Police said the rule applied to people convicted of football-related violence and given a banning order including a condition to hand in their passport.
Anyone keeping their passport in breach of an order could face court action.
'Extremely effective'
Courts imposing football banning orders have had the power to make people convicted of football-related violence hand in their passports before overseas matches since 2000, and 1,452 are required to do so in the coming days.
Ch Supt Rachel Barber, who will lead the English police delegation in Brazil, said banning the minority of England fans who wanted to "cause disorder" had proved "extremely effective".
"We are the subject of envy of some of our colleagues across the world for the legislation that we have in the UK," she said.
Ch Supt Barber, of South Yorkshire Police, said there was a "stigma" attached to England fans based on past incidents - and as a result they "may become targets" for hooligans from other countries.
She said the English police delegation was going to Brazil to keep England fans safe, and this would include passing Brazilian police any intelligence about possible violence.
But she said there had been "very limited trouble" involving English supporters at the last few major international tournaments.
Fans with banning orders living in Wales, Scotland and Northern Ireland do not have to surrender their passports, but Ch Supt Barber said it was "highly unlikely" supporters from elsewhere in the UK would travel to Brazil to cause trouble.
She said it would be "picked up" if anyone with a banning order tried to travel to Brazil but she did not expect it to be "an issue for this tournament".