Rolf Harris's daughter tells court of 'shock at affair'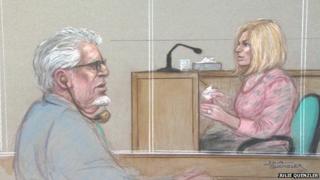 Rolf Harris's daughter has told a court of her "utter shock" and suicidal feelings at being told the entertainer had an affair with her friend.
Bindi Nicholls told Southwark Crown Court the friend had said a consensual relationship with her father had taken place from the age of 18 or 19.
But she said no claims of sexual abuse had been made by her friend.
Her evidence supports the account given in court by her father, 84, who denies 12 indecent assaults on four girls.
The assaults are alleged to have taken place between 1968 and 1986, seven of them in relation to his daughter's friend.
The friend has told the court that Mr Harris touched her on holiday in the 1970s, when she was 13, and that he later assaulted her while Mrs Nicholls slept in the same room.
But giving evidence, Mrs Nicholls, 50, dismissed the claims.
She said the allegation that her friend had been sexually assaulted while she slept was "sort of laughable" and "ridiculous".
Video footage
Mrs Nicholls described the time her friend confessed to an affair with her father. It came after she expressed suspicions to the friend that her father was having a sexual relationship with a woman who was living in an annexe at the family home.
The comments sparked an "odd" reaction from her friend, Mrs Nicholls told the court.
"She said, 'Well, it's been going on since I was 18 or 19, Bindi, it's been going on for ages,'" Mrs Nicholls told the court.
"The shock was just appalling... It was just horrible. It felt like the whole world had changed in an instant."
Mrs Nicholls said she had later confronted her father over the phone about the affair.
On claims the relationship between her friend and father had been going on since the friend was 13, Mrs Nicholls insisted: "No, she never said that."
Under-cross examination by prosecutor Sasha Wass QC, Mrs Nicholls, an artist, denied she and her father had colluded over their evidence.
She also disputed evidence given during the prosecution case by her ex-partner Malcolm Cox. He had told the court the allegations from Mrs Nicholls's friend had been raised in a conversation between the three of them around 1996. But Mrs Nicholls said her relationship with Mr Cox became "very bad" after they split and denied any conversation of this nature had taken place.
In answer to a question about whether she was "financially dependent" on her father, Mrs Nicholls said she had earnings from selling her paintings and renting out a property, and her husband worked as a teacher. But she acknowledged the amount paled by comparison to money her father provided as a "monthly income".
She added: "This isn't about me helping my father, this is about telling the truth".
Mrs Nicholls also spoke of the impact of the trial on Mr Harris and her mother, Alwen.
"My parents are 80-something, this is appalling for them. I have had to put my whole life on hold for two years. I'm frightened they are going to die in the middle of this court case," she said.
Earlier, the jury was shown a video which prosecutors say contradicts Mr Harris's assertion he could not have been at the location of one of his alleged indecent assaults.
The footage, from ITV game show Star Games, was filmed in Cambridge in 1978. The entertainer had previously told the court he first visited the city four years ago, and said in cross-examination on Monday that he had not realised where the show was recorded.
The trial was adjourned until Tuesday.