Rolf Harris trial: Star's bear hugs 'paternal not sexual'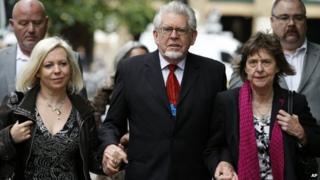 Rolf Harris's "bear hugs" were paternal rather than sexual, a court has heard.
Joanne Charles, a friend of the 84-year-old's daughter Bindi Nicholls, told Southwark Crown Court his embraces were "lovely" and "affectionate".
She said Mr Harris had displayed "no interest" in a girl he is accused of molesting from the age of 13, and that he would "run away" when his daughter's teenage friends were together.
Mr Harris denies 12 indecent assaults between 1968 and 1986.
'Real softy'
Asked by Sonia Woodley QC, defending, whether she remembered Mr Harris ever showing any interest in the alleged victim named in seven of the counts of indecent assault, Ms Charles replied: "No, I don't."
She added: "When we were all together, I think we were too loud and too giggly and Rolf used to run away from the noise and the giggling.
"I think he thought we were all a bit too giggly, silly."
The witness said the entertainer behaved the same way towards everyone and would "throw his arms around" people, "even men".
"Because I had known him for so long, it was just like having my father put his arms around me and cuddle me," she said.
"He's lovely. He was gentle and kind and a real softy. He was very, very tactile."
'Tactile nature'
The court also heard from actress Rosemarie Ford, best known as a "glamorous assistant" on TV's The Generation Game.
Asked if she had ever seen Mr Harris do anything inappropriate, Miss Ford replied: "Absolutely never."
She added: "I've been in the business a long time, you learn to recognise when people do have an inappropriate manner and I never ever saw that with Rolf."
Tina Fletcher-Hill, a senior executive producer for the BBC, who first met the entertainer while working on Animal Hospital in 1999 and later collaborated with him on the series Rolf on Art, also gave evidence.
Speaking via video link from her holiday in the United States, she said: "Rolf is a hugger. Rolf is loving, he's kind, he's affectionate.
"I've never witnessed anybody pulling back or feeling uncomfortable with his tactile nature."
Mrs Fletcher-Hill told the court Mr Harris would openly admire strangers, telling them "my God you're beautiful", but not in a sexual way.