Hacking jury told not to be 'dazzled' by defendants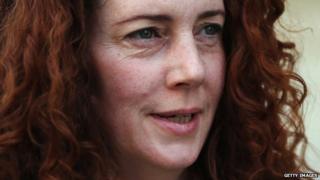 The judge in the phone-hacking trial has urged jurors not to be "dazzled" by the high-profile defendants in their deliberations.
Mr Justice Saunders, beginning his summing-up speech, also told jurors not to let envy affect their judgement.
Seven people are on trial in connection with alleged phone hacking at the News of the World, including former editors Andy Coulson and Rebekah Brooks.
All the defendants at the Old Bailey deny the allegations against them.
Mr Justice Saunders told jurors not to be influenced by those on trial or their status.
"You must not let your judgement be affected by envy," he said.
"They are friends of stars, that you only see in the movies, or people on the football pitch. You must not envy their success nor be dazzled by it."
He began his summing up on the 126th day of the trial and told the jury that they must not consider the allegations against the defendants as "making a mountain out of a molehill".
Nor must they think that the case was important because "politicians think it important… ignore all that", he said.
He said if there had been "gloss and packaging" that jurors should "cut through it".
"Everyone is equal before the court… Everyone in this country gets the same fair trial as everybody else," he said.
'Dramatic fall'
The jury of eight women and three men were also told that sympathy should not play a part in their deliberations.
The judge said Mr Coulson had "suffered a dramatic fall".
He urged the jury to ignore the "vitriol" that had been directed at Mr Coulson and Mrs Brooks - especially on social media - saying it was "not rational".
Mr Justice Saunders said phone hacking undoubtedly happened at the News of the World and that victims were entitled to their privacy.
There was, he said, a "number of victims who had their phone hacked simply because there may have been information about celebrities".
And he added there was "no doubt that people working for the News of the World violated that privacy".
Meanwhile, Mrs Brooks, who sat next to her husband and co-accused Charlie Brooks in the dock, appeared upset during the judge's summing up.
She wiped her eye with a tissue and shook her head on several occasions.
She first looked emotional as the judge described how police had raided her Oxfordshire home in the early hours of the morning while her "premature, much-loved" new baby daughter was inside.
Mr and Mrs Brooks both shook their heads in disagreement as Mr Justice Saunders told the jury they were trying some defendants who had a life some people could "only dream of".
They also appeared to be angry, again shaking their heads, as the judge made a gently sarcastic reference to their "fine dining", as he explained the evidence surrounding a pizza delivery on the day the couple are accused of conspiring to pervert the course of justice.
Mr and Mrs Brooks and Mr Coulson are on trial alongside former News of the World managing editor Stuart Kuttner, former royal editor Clive Goodman, former head of security at News International Mark Hanna, and Mrs Brooks's executive assistant Cheryl Carter.