Terrorism arrests down, Home Office figures show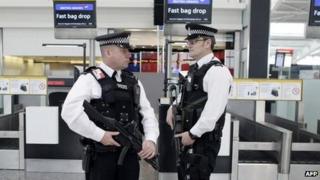 Police arrested 222 people for terrorism-related offences in Britain in 2013 - down from 258 in 2012, the Home Office has revealed.
Of those, 22 were convicted while one was found not guilty. A further 30 are still awaiting trial.
The Home Office said that 37 of 44 defendants brought to court in 2013 were found guilty.
Since the 9/11 bomb attacks on New York, 391 people had been convicted of a terrorism-related offence, it added.
The figures for Britain, published on Thursday, revealed there were 147 prisoners, either convicted or on remand, who were "classified as terrorists or extremists" on 31 December 2013.
About a third were classified as "domestic extremists".
There were 122 terrorist/extremists a year earlier.
The data was provided by police forces in England, Scotland and Wales, the Association of Chief Police Officers, the Crown Prosecution Service and the National Offender Management Service and the Scottish Prison Service.