Metropolitan Police 'must account for undercover sex claims'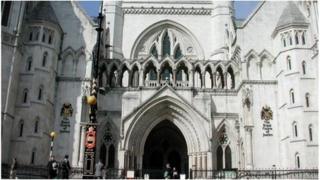 Lawyers for a group of women who say they were duped into having sexual relationships with undercover police have said the Metropolitan Police must account for itself in court.
The women are trying to sue, and their lawyers began the High Court case by challenging the Met's claim that it cannot defend itself.
The force says this is due to a policy of neither confirming nor denying the identity of undercover officers.
The women say that is simply a cover.
BBC home affairs correspondent Matt Prodger said the women say the Met is "trying to avoid airing its dirty laundry in public".
The women's lawyers said police had frequently flouted the policy by confirming the identities of officers such as Mark Kennedy, who was exposed by environmental activists after a woman he had fooled into a six-year sexual relationship discovered his real identity.
At the start of the two-day High Court hearing, Phillippa Kaufmann QC, representing the women, said "The cat is out of the bag... the horse has bolted."
'Tortuous legal process'
Other officers have confirmed themselves that they worked undercover.
One of them is Bob Lambert, a former undercover officer who fathered a child with a woman unaware of his true identity.
He is now being investigated by the Independent Police Complaints Commission over claims the Met spied on the family of the murdered teenager Stephen Lawrence.
In March, Home Secretary Theresa May announced a judge-led public inquiry into undercover policing as a result of that case.
A review found that a Met officer worked within the "Lawrence camp" while a previous inquiry into the death was under way.
Our correspondent said Thursday's hearing was part of a "tortuous legal process" that has gone on for three years so far, and the substance of the women's claims has yet to be heard in open court.
The Met has already successfully argued that some cases will have to be heard behind closed doors at a secret tribunal.