Coalition has not robbed Lib Dems of their soul - Nick Clegg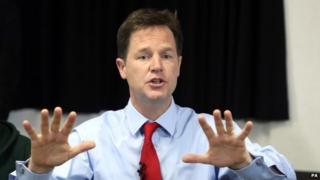 Nick Clegg is to rally his battered party for the general election fight by insisting coalition with the Tories has not robbed them of their "soul".
The Lib Dem leader will remind activists of their "unique mission" to advance liberal values in what is being billed by aides as a major speech.
He will attempt to hit back at the perception that the party is only interested in "power for power's sake".
The party has suffered a string of heavy losses in recent elections.
It lost all but one of its 11 MEPs in the European contest, finishing fifth behind the Green Party. It also lost more than 300 council seats in local elections across England.
Lib Dem strategists had hoped the party would be getting its share of the credit from voters for the economic recovery by this stage in the coalition - with less than a year to go before a general election.
'Toughest party'
But Mr Clegg's efforts to boost his party's standing - including apologies for his U-turn in raising tuition fees, and making the Lib Dem case for staying in the EU in two debates with UKIP leader Nigel Farage - have so far failed to impact on its dire poll ratings.
In his speech on Monday, Mr Clegg will defend his decision to enter into coalition with the Conservatives after the 2010 general election and warn that the Lib Dems will not allow their critics to "airbrush out" their role in delivering recovery.
But he will tell the party they need to be "much clearer and louder" about their motives and their reasons for wanting to govern.
According to an advanced extract of the speech, he will say: "I lead the bravest and toughest party in British politics - a party that, back in 2010, despite having never been in power in Westminster before, put the country's interests before our own interests to provide Britain with a stable government in extraordinarily insecure times.
"There are people out there who believe that the Liberal Democrats are only interested in power for power's sake. Our critics have spent four years claiming we've lost our soul - but it's simply not true.
"There is one reason and one reason only that the Liberal Democrats want to govern. It is because we have a unique mission in British politics - to advance our liberal values.
"The Liberal Democrats are not and will never be a split-the-difference party. I am not interested in coalition at any cost - I am interested in Liberal Democrats in government to deliver a more liberal Britain."
'Reckless'
Mr Clegg will reject the idea of the Lib Dems as "some sort of electoral wedge" standing ready to prop up either Labour or the Conservatives in the event of another hung parliament.
A source close to the Lib Dem leader said: "We always knew being in coalition with the Tories would cost us support but we must not let our opponents caricature us - the only reason we are in government is to make Britain a more liberal place and we must show people that.
"As a result, Nick has decided that now is the time to start setting out the party's election stall in more detail and in many ways this speech fires the starting gun on a 12-month general election campaign."
Commenting on Mr Clegg's attempted fight-back, Labour's deputy leader Harriet Harman said: "Nick Clegg should be in no doubt, people will not forget what the Lib Dems have done in government - his party has been an accomplice rather than a brake on this Tory-led government."
She added: "It is not brave to make promises and break them, it is reckless with peoples' confidence in our democracy."