Iraq conflict: UK offers £3m in emergency aid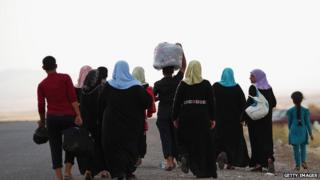 The UK will provide an initial £3m in emergency aid to help civilians fleeing the Islamist insurgency in Iraq, the government has said.
International Development Secretary Justine Greening said the package included clean water, medicine and protection for vulnerable women.
Hundreds of thousands of people have fled their homes after insurgents seized the cities of Mosul and Tikrit.
Ms Greening said Iraq faced "serious humanitarian need".
The Sunni insurgents, from the Islamic State in Iraq and the Levant (ISIS), regard Iraq's Shia majority as "infidels".
Vulnerable women
After officials from the Department for International Development (DfID) were deployed to Iraq on Thursday, Ms Greening has activated the UK's Rapid Response Facility, which provides emergency support using a network of pre-approved organisations.
Basic household items and "women-friendly hygiene kits" will also be provided, and United Nations teams will be sent into refugee camps to protect women and girls, said DfID.
Ms Greening said the UK's contribution would include support for the UNHCR [UN High Commissioner for Refugees] to provide "dedicated safety and welfare teams to protect vulnerable women".
The International Organization for Migration estimates that 40,000 people have fled Tikrit and Samarra, adding to the 500,000 people who are already believed to have left Mosul.
Save the Children said the crisis was "one of the largest and swiftest mass movements of people in the world in recent memory".
The charity's acting country director in Iraq, Aram Shakaram, said the "shocking escalation of violence" was "forcing hundreds of thousands of people to flee for their lives towards the Kurdistan region".
"As an immediate emergency priority, we will distribute water, food and hygiene kits to people fleeing Mosul in co-ordination with local authorities and organisations responding to the crisis," he added.
"The majority of Iraqis fleeing Mosul had to escape in a matter of minutes as the situation deteriorated.
"Reaching out to them is an immediate priority and we appeal to the international community to step up its funding to this growing crisis."
Foreign Secretary William Hague has said Britain could offer counter-terrorism expertise, while former Defence Secretary Liam Fox said the idea of sending troops back to Iraq should not be ruled out.
Reinforcements arrive
After taking Mosul late on Monday, and then Saddam Hussein's hometown of Tikrit, the Sunni militants have pressed south into the ethnically divided Diyala province.
On Friday, they battled against Shia fighters near Muqdadiya - just 80km from Baghdad's city limits.
Reinforcements from both the Iraqi army and Shia militias have arrived in the city of Samarra, where fighters loyal to ISIS are trying to enter from the north.
Meanwhile Iranian President Hassan Rouhani has said he is ready to assist the Iraqi government in its battle with the insurgents.
But he denied Iran had already sent troops into Iraq to help boost its government forces' defences.
Iran has close ties with the Shia-dominated Iraqi leadership, which came to power after the toppling of President Saddam Hussein, whose powerbase was the country's Sunni minority.
ISIS is a hardline Islamist militant group that grew during the US-led occupation and is one of several jihadist militias fighting the rule of Bashar al-Assad in neighbouring Syria.
President Rouhani, speaking at a news conference to mark the first anniversary of his victory in Shia Iran's presidential election, said: "If the Iraqi government asks us for help, we may provide any assistance the Iraqi nation would like us to provide in the fight against terrorism.
"However, the engagement of Iranian forces has not been discussed. Providing help and being engaged in operations are different."
He did not rule out co-operating with Iran's traditional foe the United States in combating ISIS: "We can think about it if we see America starts confronting the terrorist groups in Iraq or elsewhere."
Iraq's most senior Shia cleric, Grand Ayatollah Ali al-Sistani, meanwhile, has issued a call to arms to fellow Shias.
There are reports that thousands have already joined Shia militias, which could play a crucial role in the defence of Baghdad, says the BBC's Richard Galpin who is in the city.