Archbishop and Pope join forces to tackle people-trafficking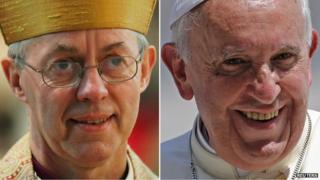 The Archbishop of Canterbury Justin Welby is to meet the Pope in Rome later to discuss their project to combat people-trafficking and slavery.
The idea of joining forces to tackle the problem came to the Pope and archbishop over a private lunch they shared last year.
Archbishop Welby mentioned his concern about the abject misery of people forced, tricked or blackmailed into lives of systematic abuse.
Pope Francis responded with equal passion and the Global Freedom Network was born.
It is the first time since the Church of England was created at the time of the Reformation that the two churches have co-operated in a practical campaign to tackle a world problem.
Sexual exploitation
The Pope and the archbishop have described modern slavery and human trafficking as a crime against humanity, and a global evil that is running out of control.
The trafficking and enslavement of people generates profits around the world of an estimated $150bn (£88.4bn) a year - almost two-thirds of it through sexual exploitation.
The International Labour Organisation says almost 30 million people are currently enslaved.
The two men meet again on Monday to monitor progress and discuss their project's ambitious aims, which include persuading 50 multi-national companies to render their supply chains free of slavery by 2020.
They also want 162 countries to publicly endorse the campaign and get the G20 to adopt an anti-slavery initiative.
Vast profits can be made out of trafficking a prostitute to the west.
For an initial cost of a few hundred pounds, gangs of traffickers can make several thousand pounds every year.
Others are coerced into long hours of hard labour in fields or factories.
Long hours
Archbishop Welby, who arrived in Rome on Saturday, met James Kofi Annan, who was a child of six when his parents sent him to work with fishermen on Lake Volta in Ghana.
James mended nets, processed fish and paddled boats.
He endured seven years of working from 03:00 until 20:00 with meagre meals and regular beatings when the pace of his work slackened.
"I tried to escape many times and was tortured with a rope around my neck to be an example to other children," he says.
On one occasion, "they beat a child with a paddle so violently that he died".
At the age of 13 James did escape and, after eventually finding a career in banking, left to set up his own charity, Challenging Heights.
It has already rescued 1,000 children from slavery in the fishing industry but James says there are thousands more, many sent by desperately poor parents.
"Archbishop Welby agreed to work through the Anglican Church to warn parents not to send their children to work during the summer vacation that is starting soon," he says.
"Four in 10 of them don't come back."
Conflict zones
The Anglican Communion and the Roman Catholic Church have a powerful presence in many of the countries - Ghana included - where trafficking and slavery is most common.
The leading authority in Sunni Islam, Sheikh Ahmed el-Tayyib, grand imam of al-Azhar mosque in Cairo, is participating in the Global Freedom Network and discussions have begun with Hindu leaders too.
On the first day of his visit, Archbishop Welby met senior Vatican officials in the offices that Pope Francis has set aside for the organisation.
Archbishop Welby told them that the conditions that bred slavery and trafficking were complex and diverse and that it was necessary to tread a delicate middle ground between coming up with solutions that were too simple and giving up altogether.
"Many Africans come from zones of conflict," he said.
"In the Indian sub-continent there can be savage economic exploitation and, in Europe, it's often sexual exploitation."
It's a picture borne out on Rome's Via Salaria, a 20-minute taxi ride from the Vatican.
Abuse danger
The arterial road is peppered with prostitutes, some African, most east Europeans, standing with practised nonchalance, some with mobile phones permanently pressed to their ears.
A girl or young woman might be befriended and promised work in western Europe, perhaps as a nurse or carer.
But once her journey is over, she could be abused, often raped, and intimidated, and forced into prostitution.
People who are trafficked are often told they owe large sums for their transit, food and accommodation, money that they can never repay.
They are hard for immigration officers to spot because they are often unaware that they are being trafficked.
Archbishop David Moxon, who acts as a kind of Anglican ambassador to the Holy See, says the first task for the Global Freedom Network will be to alert people to the enormity of the problem.
"We are facing a global evil that is running away from us," he says.
"It's a runaway train. The numbers have increased exponentially."
There is a sense among the delegation meeting Pope Francis that the problem represents an opportunity for religious organisations.
'Great reconciliation'
Archbishop Moxon insists they can use their "reach and power to work on the ground" to achieve what is "beyond the scope of countries or the United Nations".
While the Roman Catholic Church and the Anglican Communion were each led by men regarded more as thinkers than doers - in Pope Benedict and Rowan Williams - they now have two men of action in charge.
The very fact that full unity between the Churches is now unthinkable seems to have cleared the way for a new partnership based on shared, practical problems.
Archbishop Welby told officials of the Global Freedom Network that the churches had reached "a major point of collaboration, a great moment of reconciliation and hope, based not at looking at each other but at the poor".