Rolf Harris trial: Prosecution case has 'unavoidable doubt'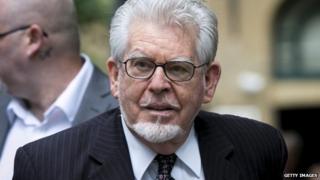 There are problems with the indecent assault case against veteran entertainer Rolf Harris that "cannot be pushed aside", his defence has said.
Defence counsel Simon Ray said there was "unavoidable doubt" over the truth of the allegations against Mr Harris.
Mr Ray told Southwark Crown Court that it was a prosecution that failed to meet the standard of criminal proof.
Mr Harris denies 12 counts of indecent assault against four alleged victims between 1968 and 1986.
'High standard'
In the closing of the defence case, the jury heard Mr Harris had been punished for past infidelity with "public humiliation" in a prosecution that failed to meet the standard of criminal proof.
Mr Ray said: "Making allegations loudly and forcefully does not make them true.
"The reality is that when you take a cold hard look at the prosecution case, there are problems that cannot be pushed aside.
"The prosecution has to prove it and they have to prove it so that you are sure, and that's a high standard. A standard that when you analyse the evidence, which is all that any of us can do, the prosecution has not met."
Mr Ray said the time lapse since the claims was "a serious disadvantage" for the entertainer.
'Good name'
The barrister told the jury of six men and six women that Mr Harris faced an impossible situation trying to remember details from so long ago.
"Mr Harris can't really win. If he fails to remember things, any incorrect assertions by him are damned as deliberate lies. If he does remember details and tries to say so, again that's dismissed," he said.
During the trial, the court heard details of two extra-marital affairs Mr Harris had engaged in, including one with a complainant.
Mr Ray said: "He has been punished for his infidelity by, effectively, public humiliation."
Jurors have been told by prosecutor Sasha Wass QC that Mr Harris had "a dark side" to his personality.
Mr Ray said: "Everyone has a private life, everyone has a side to their personality that they only reveal to those that know them intimately, and, to be honest, maybe not anyone."
He told the court: "You have heard that he has done things in his 84 years that he is ashamed of or regrets. Destroying Mr Harris's good name seems to have been essential to the prosecution case."
'No evidence'
The first count on the indictment concerns an allegation by a woman who claims Mr Harris groped her at an event near Portsmouth between 1968 and 1970.
Mr Ray said: "The reality is that there is no evidence from any independent source that the event described took place."
The alleged victim in the second count claims Mr Harris touched her bottom at a celebrity event in Cambridge in 1975 - although it was later suggested this could have been in 1978.
Mr Ray told the jury: "Was she 13 or was she 16? Those three years for a teenager are a real and significant difference and not one that you would get wrong."
The barrister then turned to the third alleged victim, who claimed Mr Harris abused her from the age of 13.
The entertainer denies this but says they had a consensual adult relationship.
Mr Ray said rather than the alleged victim being groomed, it was "a sporadic, illicit, somewhat low-rent adult relationship that ended in embarrassment".
'Reputation trashed'
Turning to the final alleged victim, Tonya Lee, who has waived her right to anonymity, he said: "The defence do not suggest that the mere fact that Ms Lee sold her story to the press and engaged a PR agent means that she is not telling the truth.
"It is the ease with which she has lied in the past and had lied well and convincingly."
He said she had lied about having a car accident as a reason for not meeting police, and had not told officers she had spoken to the press.
Summarising the defence case, he told the court: "One thing is certain, Mr Harris's reputation has effectively been trashed and will never be the same again. It may be that your own childhood memories have been altered.
"But after all of that when you take a step back, have the prosecution come close to satisfying you so that you are sure he is guilty on any of this? You may conclude quite properly that they have fallen a long way short of that and ultimately that is the only decision that counts."
Mr Ray stepped in to give the closing speech because Mr Harris's lead barrister, Sonia Woodley QC, was ill.
The jury was sent home until Tuesday.