MPs say UK government 'too slow' on marine conservation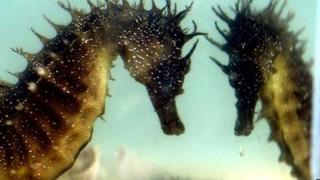 The development of conservation zones to protect the seas around the UK has been too slow, a group of MPs has said.
Last year, the government designated 27 marine conservation zones in the UK, while a further 37 zones could be designated by the end of 2015.
However, 127 areas are recommended for protection and the Environmental Audit Committee criticised a "lack of government commitment" on the issue.
The government said it was doing "more than ever" to protect marine habitats.
Marine conservation zones have been set up to conserve "nationally rare" or "threatened" habitats and wildlife in inshore waters, as well as in offshore seas around England, Wales and Northern Ireland.
However, the report called on ministers to move more quickly and to establish more protected areas of the seas.
"This slow pace has been disappointing and suggests a lack of government commitment to this initiative", the parliamentary committee said in the report.
'Tailored protection'
The committee's chairwoman, Joan Walley, said the zones could "protect our seas from over-fishing and give species and habitats space to recover".
She said the government had been "too slow in creating these zones and it has failed to get coastal communities and fishermen on board".
"It is now well over four years since the launch of the programme, yet only 27 of the 127 sites recommended by independent project groups have been designated.
"The government must stop trying to water down its pledge to protect our seas and move much more quickly to establish further protection zones and ensure they can be enforced."
She added: "When a rare species or biodiverse stretch of seabed is destroyed, it may be lost forever."
Sarah North, Greenpeace's UK head of oceans, said the report was a "damning indictment of government inaction".
"In failing to create marine protection zones in English waters, ministers have yet again left fish stocks and wildlife to the mercy of those who treat the oceans like a mine to be exploited, rather than a resource to be cherished," she said.
A spokeswoman for the Department for Environment, Food and Rural Affairs - the government department responsible for environmental protection - said two more phases of designation were expected over the next few years.
"Management measures are currently being drawn up to ensure effective, tailored protection for each of the sites."